Disgraced former Alabama Supreme Court Chief Justice, accused minor diddler, failed Senatorial candidate and Christian theocrat Roy Moore has announced that he is going to run for the same Senate seat he just lost to Democrat Doug Jones (it was only a two year term, to replace Jeff Sessions). And the Alabama GOP is none too happy about it.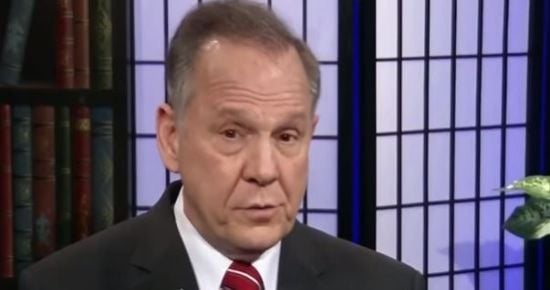 On Thursday afternoon, Moore announced his intention to run again, saying, during a press conference in Montgomery, with a yellow notepad in hand, "I fought for our country in Vietnam. I fought for our country and its laws as Chief Justice. I fought for morality, to serve our moral institutions. And I'm ready to do it again. Yes, I will run for the United States Senate in 2020." He added, "Can I win? Yes, I can win. Not only can I—they know I can. That's why there's such opposition to me."…

Michael Bullington recently became chair of the Greater Birmingham Young Republicans. The group vocally opposed Moore's previous candidacy for the Senate seat, which became available, last time around, when Jeff Sessions was appointed to be U.S. Attorney General…

Bullington said that he'd be happy to vote for any of the other notable Republicans who have entered the race so far, or are expected to do so—including Tommy Tuberville, the former Auburn University football coach; the congressman Bradley Byrne, the state representative Arnold Mooney; and the Alabama secretary of state, John Merrill. He would also vote for Sessions, were he to run for his old seat—not Moore, though, even against a Democrat. "He was credibly accused of sexual assault by several women," Bullington said. "He's currently engaged in multiple lawsuits and seems to be losing. His name identification has largely a negative connotation. He has trouble fixing his taxes right," Bullington added, referring to the reported failure of Moore's former charity, the Foundation for Moral Law, to disclose half a million dollars of compensation to him. "His lawyer was arrested on drug charges," Bullington went on. (The lawyer in question, Trenton Garmon, has denied any wrongdoing.) "He has lost three statewide campaigns. And he was removed from the bench multiple times."
I still won't be the least bit surprised if he wins both the primary and the general election. This is Alabama, after all. Let's just hope he doesn't make campaign stops in any malls.