Okay kiddies, have a seat and let Uncle Donny tell you a story. It's a grand tale of how he singlehandedly restored fireworks celebrations at Mt. Rushmore after a bunch of stupid bureaucrats canceled them because they were afraid stone would catch on fire. I mean, how dumb could they be, right? From his interview with The Hill.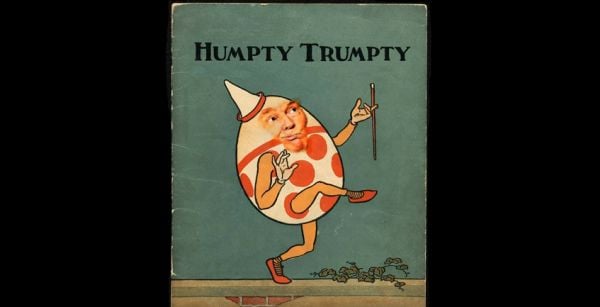 THE HILL: Do you think you should be on Mount Rushmore, sir?

PRESIDENT TRUMP: If I answer that question yes, I will end up with such bad publicity. Well , look, I have a lot of respect; even Mount Rushmore; so for many, many years they got , they had fireworks, right? Many, many years. and Kristi, your new governor, she's a great person. She called, she said, sir, for many years we had tremendous fireworks on the 4th of July. We don't have it anymore. Can you do something? And I got it approved. Starting , next season, it was not easy, starting next season , Mount Rushmore will have tremendous fireworks like they had for many years. But they ended it a long time ago, but they didn't want, but they didn't have fireworks because of, I don't know, I think they thought, thought the stone was gonna catch on fire. That doesn't happen, right? There was somebody said they had. Nobody's been able, nobody's been able to figure out why, but it was a very strong no. And I got it approved starting next season. They're doing some work. They're finishing up work now. But I got it approved for next season for Kristi and for the state.
Yeah, nobody can figure out why they would think stone would catch on fire. Everyone knows stones don't catch on fire. It's such a beautiful story. It is, of course, pure fiction. In 2011, the National Park Service suspended the fireworks displays and, of course, it wasn't because they think stone is going to catch fire. But dry forests and dead wood? That's why they canceled it.
The unacceptable risk of wildfire prompted the suspension of the fireworks for the 2010 and 2011 celebrations. Efforts are on-going throughout the Black Hills to combat the Mountain Pine Beetle and reduce fire danger, however, the condition of the forest in the surrounding area continues to deteriorate and will remain a concern for the foreseeable future.
And why were they restarted this year? Because the conditions of the forest have improved and new advances in pyrotechnics reduce the risk of sparking a forest fire.
The state reached an agreement with the U.S. Department of the Interior to have fireworks beginning with the 2020 Independence Day celebration after several months of meetings and discussions, Noem said. Several state and local agencies will work together over the next year to coordinate and plan the celebration and ensure the fireworks display is safe and enjoyable for visitors…

Fireworks last went off over Mount Rushmore in 2009 and were discontinued due to concerns related to the pine beetle infestation in the Black Hills National Forest. Since then, the forest has revitalized and pyrotechnic advancements have allowed for a safe fireworks display.
As usual, in Trump's mind the entire world is a story in which he is always the hero. And he wants everyone else to inhabit this delusional world that has no relationship to reality whatsoever.