Brian Brown, head of the anti-gay National Organization for Marriage, chairman of the World Congress of Families and president of the International Organization for the Family (but not families led by gay people, of course) published a post on the Russia Insider website, which is so anti-Semitic that even Russia Today has disavowed them.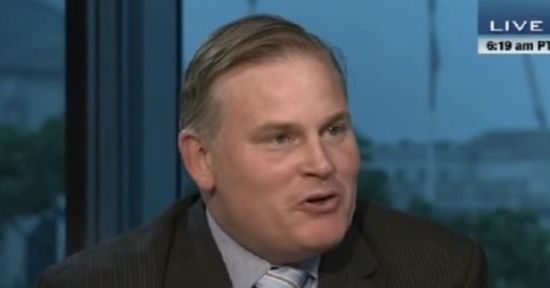 In fact, Russia Insider is notorious for being too racist to be endorsed by other pro-Russia propaganda websites. In 2018, Russian media outlet RT denounced Russia Insider's lead voice Charles Bausman and said Bausman was no longer welcome to appear on their network. Russia Insider currently has an entire website section dedicated to the "Jewish Question," referring to an anti-Semitic conspiracy theory asserting the Jews combine their money and influence to seek to undermine and destroy the world to their advantage.

The Russia Insider post mirrors the message contained in an email Brown sent to supporters of his International Organization for the Family on Thursday.
And here's the substance of what Brown was advocating in the article. He's trying to get the government of Georgia to prevent a gay pride march from happening.
In his email, Brown praised his "good friend" Levan Vasadze for "leading the charge to stop the LGBT movement's attempt to undermine family and faith in the Republic of Georgia." He also praised the head of the Georgian Orthodox Church, Patriarch Ilya II, as "a kind and holy man" who "has made clear that Georgian Christians will not be silent while their Christian roots are undermined and attacked."

Brown charged that the mainstream media has tried to smear Vasadze and Georgian Christians as supporters of hatred and violence. "Nothing could be further from the truth," Brown claimed in his email.

Actually, the truth is quite clear. In 2013, Orthodox priests led a violent mob attack on a small group of people attempting to hold a Pride celebration; Ilya distanced himself from the violence, but also called the gay rights rally a "violation of the rights of the majority" of Georgians. The 2016 World Congress of Families global summit, which Vasadze hosted in Tbilisi, was timed to coincide with the anniversary of that violent silencing of LGBTQ activists.
If this march is allowed to go on, I can guarantee you that they will be attacked by Christian thugs and neo-Nazis. And the marchers surely know that, but are willing to take the risk in order to advance their cause. That's real courage. What's going on in Russia and the former Soviet republics toward LGBT people is brutal, vicious and inhumane.