Former Congressman Allen West, who was thrown out of the military for violating the Geneva Conventions by firing a gun near the head and threatening to kill a prisoner, is thinking about running for a House seat or a Senate in his newly adopted state of Texas (he was in Florida before). Media Matters compiles some of his "greatest" hits.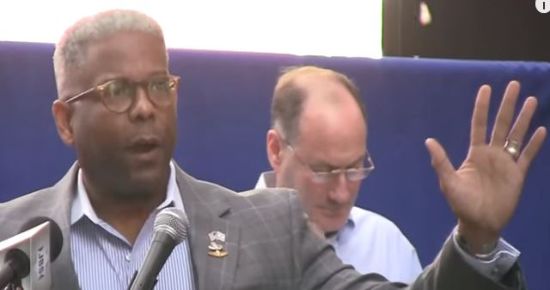 West was "stripped of his command after pleading guilty to assaulting an Iraqi detainee." The Boston Globe noted in 2003 that West was "stripped of his command after pleading guilty to assaulting an Iraqi detainee during interrogation. … The military said that during an interrogation of an Iraqi police officer Aug. 20 near the village of Taji, north of Baghdad, West fired his pistol near the head of the prisoner, threatened to kill him, and allowed his troops to beat the man." [Boston Globe, 12/14/03; Media Matters, 2/8/10]…

West left conservative website after he reportedly "had an anti-Semitic exchange with a staffer, calling her a 'Jewish American princess.'" West left the conservative website PJ Media after, according to BuzzFeed, West had "an altercation with a female staffer in which he allegedly called her a 'Jewish American princess.' … Asked specifically whether he referred to the employee as a 'Jewish American princess,' West said simply, 'There was an exchange, that's all.'" [BuzzFeed, 9/26/13]…

West questioned the "loyalties" of decorated veteran and Illinois Sen. Tammy Duckworth. During a 2014 appearance on a conservative radio show, West said of decorated veteran Tammy Duckworth and her position on the Obama administration's response to the 2012 Benghazi attack: "I just don't know where her loyalties lie. You know, for her to have been a veteran, a wounded warrior for the United States Army, she should know that this is not the right thing. And hopefully, you know, she will remember the oath of office that she took as an Army officer and not the allegiance I guess she believes she has to the liberal progressives of the Democrat Party." [Media Matters, 5/22/14]…

West: "The Black community was stronger" and had "better education opportunities" during segregation. [Fox Business, Varney & Co., 9/28/16]…

West said Holder is a "bigger threat" than Al Qaeda. In a fundraising email, West claimed that Holder was a "bigger threat to our Republic" than terrorist Ayman al-Zawahiri, a former deputy of Osama bin Laden. [Media Matters, 6/7/13]…

West falsely accused dozens of congressional Democrats of being communists. West accused roughly 80 Democratic House members of being "members of the Communist Party. … It's called the Congressional Progressive Caucus." [Media Matters, 5/17/13]…

West: Feminists are "neutering American men." West criticized liberal women for "neutering American men and bringing us to the point of this incredible weakness" and said, "We are not going to have our men become subservient." He was also denounced for comments about Rep. Debbie Wasserman Schultz (D-FL) in which he wrote to her, "You have proven repeatedly that you are not a Lady, therefore, shall not be afforded due respect from me!" [Media Matters, 5/17/13]…

West claimed that God has climate change "under control." In response to people saying that human activity is causing climate change, West said in October 2018: "There's a creator that's got this under control. But what they're doing is they're delegitimizing, they're undermining the sovereignty of the creator." [Media Matters, 12/29/18]
That's just a small sampling. Sounds like the perfect candidate for today's Republican party. And it's Texas, so his chances of winning are pretty good. Frightening.