I missed this last week, but federal prosecutors have decided to retry Scott Warren, a good Samaritan who works with No More Deaths to provide food, water and medical care to immigrants, after a jury failed to convict him the first time. Once again, if he's convicted he faces up to 10 years in prison. As usual, the Trump administration is taking a stand against compassion and for cruelty and suffering.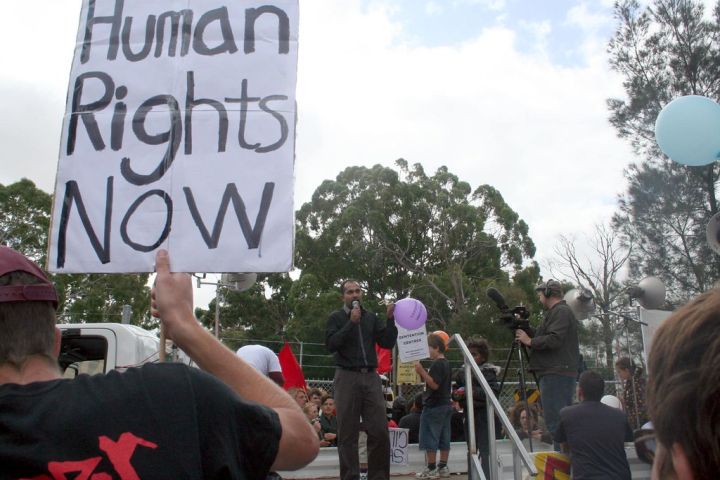 JUAN GONZÁLEZ: We turn now to Tucson, Arizona, where federal prosecutors said Tuesday they will retry humanitarian activist Scott Warren on two charges related to aiding migrants along the U.S.-Mexico border. If convicted, he faces up to 10 years in prison. This comes just a few weeks after a jury refused to convict Warren for providing water, food, clean clothes and beds to two undocumented migrants crossing the Sonoran Desert in southern Arizona. Eight jurors found Warren not guilty; four said he was. Federal prosecutors will make their case against Warren again in an eight-day jury trial in November.

AMY GOODMAN: Scott Warren is an activist with Ajo Samaritans and No More Deaths, which has helped refugees and migrants survive the deadly journey across the U.S. border by leaving water and food in the harsh Sonoran Desert, where the temperature often reaches three digits during the summer months. Warren responded to Tuesday's announcement by pledging that work to assist migrant populations would continue. He was speaking outside the federal courthouse in Tucson.

SCOTT WARREN: It has been deeply exhausting and and troublesome to my friends and family and loved ones. But all of us, all of you, we've done our best, and we really should take a moment to celebrate that as we prepare for this future. While I do not know what the government has hoped to accomplish here, I do know what the effect of all this has been and will continue to be: a raising of public consciousness, a greater awareness of the humanitarian crisis in the borderland, more volunteers who want to stand in solidarity with migrants, local residents stiffened in their resistance to border walls and the militarization of our communities, and a flood of water into the desert at a time when it is most needed. Thank you for all of your support. And I love you all very, very much.

AMY GOODMAN: That's Scott Warren. He's drawn support from elected officials, human rights defenders, faith leaders across the world. In a letter last week, 15 U.S. senators urged the Department of Justice to drop charges against him, saying, quote, "Providing humanitarian aid should never be a crime."
This is morally bankrupt in every way. And this is not just a by-product, this is official Trump administration policy, to maximize the cruelty and suffering for immigrants because they believe that will deter others from crossing the border. There is no evidence at all for that position. These people leave their homes and walk thousands of miles through harsh desert, often carrying their children on their backs, to try to make a better life for themselves and their family and escape violence and persecution in their home countries. If they're willing to do that, deterrence is pointless.
The tragic thing is that people like Warren have to do any of this at all. The government should be providing aid to these people, giving them food and water and necessary medical care. But for Trump the cruelty, the barbarism and inhumanity, IS the policy. And that will be to our eternal shame.
And let us also note the hypocrisy of the notion of religious freedom used by the right. Warren argues that his religious beliefs demand that he provide help to these people, as Jesus commanded. Trump and the right demand exemption from generally applicable law in order to allow them to engage in discrimination, but have no desire to argue for a similar right for people like Warren. They demand exemptions to engage in discrimination but not to engage in compassionate action to help those who need it the most. Total hypocrisy.