The Washington Post has an article looking at the chaotic aftermath of Trump's racist tweets aimed at four Democratic Congresswomen last Sunday. As usual, his aides were caught completely off guard and unprepared to respond to the future and Trump himself was oblivious to the political fallout when he made the tweets, Self-awareness has never been one of Trump's stronger traits, to say the least.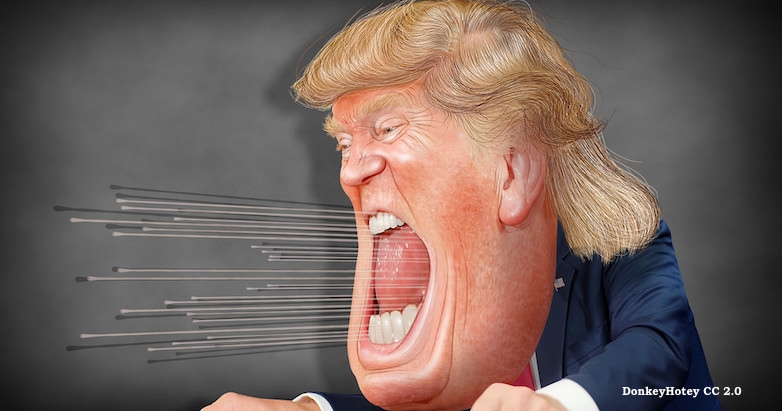 President Trump's own top aides didn't think he fully understood what he had done last Sunday, when he fired off a trio of racist tweets before a trip to his golf course.

After he returned to the White House, senior adviser Kellyanne Conway felt compelled to tell him why the missives were leading newscasts around the country, upsetting allies and enraging opponents. Calling on four minority congresswomen — all citizens, three born in the United States ­­— to "go back" to the "totally broken and crime infested places from which they came" had hit a painful historical nerve.

Trump defended himself. He had been watching "Fox & Friends" after waking up. He wanted to elevate the congresswomen, as he had previously discussed with aides. The lawmakers — Reps. Ayanna Pressley (Mass.), Ilhan Omar (Minn.), Alexandria Ocasio-Cortez (N.Y.) and Rashida Tlaib (Mich.) — were good foils, he had told his advisers, including campaign manager Brad Parscale. The president said he thought he was interjecting himself into Democratic Party politics in a good way.

As is often the case, Trump acted alone — impulsively following his gut to the dark side of American politics, and now the country would have to pick up the pieces. The day before, on the golf course, he hadn't brought it up. Over the coming days, dozens of friends, advisers and political allies would work behind the scenes to try to fix the mess without any public admission of error, because that was not the Trump way.

"He realized that part of it was not playing well," said Sen. Lindsey O. Graham (R-S.C.), a Trump confidant, who golfed Saturday with the president and spoke to him about it on Monday. "Well, he always doubles down. Then he adjusts."…

The political crisis was both familiar and extraordinary — engulfing every aspect of American politics, from the presidential campaign to the White House to Capitol Hill. Many in both parties, well acquainted with Trump's history of racially charged rhetoric, were stunned at how far he had gone this time. Republicans were fearful of the potential damage but reluctant to confront or contradict Trump. The White House and the Trump campaign sought to contain the furor without alienating key supporters. Democrats finally unified after a week of squabbling to roundly condemn the president…

Trump's own campaign, by contrast, was caught off guard by the tweets and didn't know initially how to respond. Top aides had been bragging about their ability to fundraise and capitalize on social media advertising when the president blew up a news cycle. But they placed no Facebook ads to ride this wave. The Republican National Committee was silent for more than a day. No one wanted to touch it, advisers said.

"People have been through so many of these with him," said one Republican involved in the fight.
So have we all. This is why I laugh at those who say Trump is playing some ingenious game of three dimensional chess and that there's some sort of brilliant agenda behind this kind of thing. Nonsense. He simply can't help himself. He has these outbursts and is shocked at the negative response to them because, in his mind, everyone loves him and agrees with him so he can't foresee any consequences coming down the road. He just has no self-control at all and blurts things out, especially when he's repeating the Fox News arguments he hears on Hannity, Ingraham and Tucker Carlson. And then he doubles down. And then he tries to change the subject. And eventually he moves on to the next stupid thing he tweets out and the cycle begins anew. The ciiiiiircle of life….