Larry Klayman, the dumbest lawyer in America not named Mat Staver, is facing ethics charges in the District of Columbia for trying to have a romantic relationship with a client and other violations of the rules that govern law license, and it could result in him losing his license to practice law there for almost three years.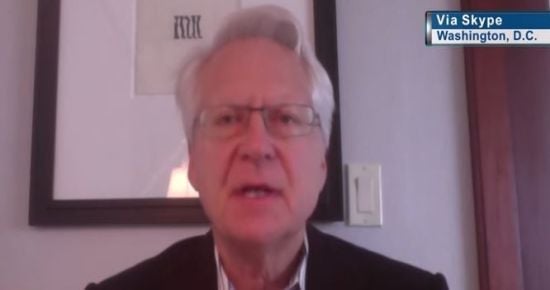 A Hearing Committee with the Board on Professional Responsibility filed a report Wednesday alleging that he took advantage of a client and tried to start a relationship with her:

Respondent Larry E. Klayman is charged in a four-count Specification of Charges with multiple violations of the Rules of Professional Conduct for the District of Columbia (Rules) — specifically Rules 1.2(a), 1.4(b), 1.5(b), 1.5(c), 1.6(a)(1), 1.6(a)(3), 1.7(b)(4), 1.16(a)(3), and 8.4(c). This disciplinary matter arises out of Respondent's representation of a client in 2010 and perhaps for a few weeks before and after 2010.

Elham Sataki, a former broadcaster with Voice of America (VOA), previously claimed that a co-worker sexually harassed her; she said that she was trying to transfer from D.C. to Los Angeles. She ended up relying on Klayman in a lawsuit regarding the alleged sexual harassment…

"Respondent exploited Ms. Sataki's precarious financial position and his position as her attorney by pursuing a romantic relationship with her. In doing so, he ignored her concerns and risked, by his own admission, the impairment of his independent professional judgment that he owed her as his client," they wrote.
The accusation is basically that Klayman convinced her to move to California and he covered all her living expenses, and he used that to pressure her into having a romantic relationship with her. He says it's all a liberal conspiracy against him, of course, but the report includes emails he sent to her telling her he was upset when she said she would not be his girlfriend and that she was the only woman he had ever truly loved. All of this, ironically, while representing her in a sexual harassment suit. It looks to me like they have him pretty dead to rights on this.
If he does lost his licence to practice, it won't be the first time. He also was disbarred for a time in Florida because he took a $25,000 retainer from someone and never actually did any work for them. I'm torn. He's clearly sleezy and unethical, so he ought to be disbarred everywhere, permanently. But if that happened, I'd lose so much great material to write about.