Paul Joseph Watson, who works for Alex Jones at InfoWars and has been pushing all sorts of bizarre conspiracy theories, says he hates conspiracy theories. And he actually provides a decent analysis for why people believe in them and why they're bad. But he still pushes them. The lack of self-awareness is almost awe-inspiring.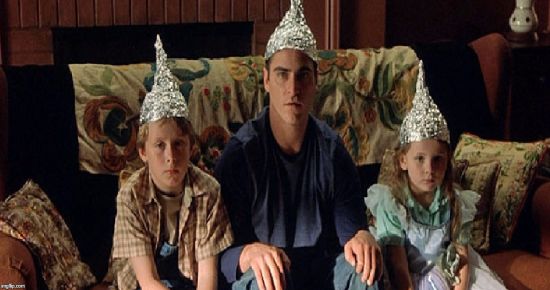 In an interview uploaded yesterday to Dennis Prager's digital media outlet PragerU, Watson joined conservative commentator Candace Owens on her podcast to discuss issues of social media moderation as interpreted through the right-wing lens that defines it as "censorship." Watson was banned from Facebook earlier this year…

"I hate conspiracy theories. I think most of them are really dumb," Watson said.

Owens chimed in that she doesn't watch CNN because it's a "conspiracy theorist network." It's worth noting that Owens got her start in right-wing media thanks in part to an in-studio appearance she made on Alex Jones' Infowars show while she still operated under the moniker "Red Pill Black."

Watson said, "I was a conspiracy theorist when I was a kid, like 15 years ago. That's where I came from, so I know how those ideas—you take disparate bits of information and fuse them together to create a conspiracy. That doesn't mean there aren't some conspiracies. But I know how they're created and I know mentally how people are lulled into believing them."
First of all, Paul Joseph Watson and Candace Owens on PragerU? That site has always been a bad joke, but the joke is getting worse if they're letting crackpots like them produce content for them. And Dennis Prager considers himself, and for some weird reason is considered by others, to be a serious conservative intellectual. So much for that idea. We should also note that Watson has a history of claiming to be totally not like how he is portrayed. For instance, he has claimed not to be a racist yet he supported Marine Le Pen of the racist and fascist National Front Party in France.
But look, this is simple. You cannot claim to be anti-conspiracy theory and work for Alex Jones, whose show he has guest hosted many times. You just can't. Unless you want to publicly condemn Jones and your own spreading of such theories and disavow them forever, which he is not about to do. And this wasn't 15 years ago, it was quite recently. Is he just that delusional or is he lying? No way to tell.
"I hate conspiracy theories. I think most of them are really dumb," Watson said.
Owens chimed in that she doesn't watch CNN because it's a "conspiracy theorist network." It's worth noting that Owens got her start in right-wing media thanks in part to an in-studio appearance she made on Alex Jones' Infowars show while she still operated under the moniker "Red Pill Black."
Watson said, "I was a conspiracy theorist when I was a kid, like 15 years ago. That's where I came from, so I know how those ideas—you take disparate bits of information and fuse them together to create a conspiracy. That doesn't mean there aren't some conspiracies. But I know how they're created and I know mentally how people are lulled into believing them."