An uber-"patriot" in Montana has been arrested after slamming a 13-year old boy's head into the ground and fracturing his skull because he said the kid was "disrespecting" the national anthem because he didn't remove his hat while it was playing before a county fair rodeo. He told witnesses that he was justified in doing so.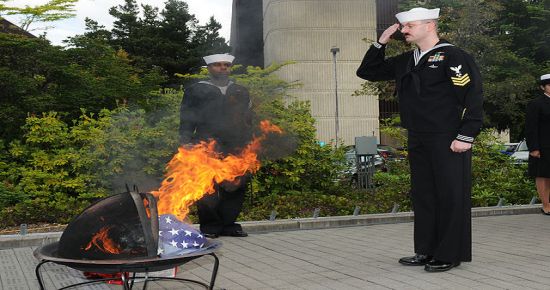 A Montana man allegedly slammed a boy's head to the ground at a county fair because the 13-year-old kept his hat on during the national anthem, a witness told local news outlets.

In a news release, Mineral County Sheriff Mike Boone said witnesses identified the suspect as 39-year-old Curt James Brockway. Brockway was apprehended at the fairgrounds, located in the western Montana town of Superior, and charged with assault on a minor — a felony crime.

The sheriff's office declined to provide additional information on the alleged assault, including motive. But Taylor Hennick, who attended the event, told local news outlets that she overheard the attack near the Mineral County Fair and Rodeo's entrance, just as the national anthem began to play…

"He said [the boy] was disrespecting the national anthem, so he had every right to do that," she added.

Police say the child was rushed to a hospital Saturday, then flown to Sacred Heart Children's Hospital in Spokane, Wash. KPAX, a CBS-affiliated news station, reports the boy suffered temporal skull fractures in the incident. His mother told the station her son's ears bled for six hours after the alleged assault.
Brockway is still on probation for assault with a weapon from 2010. What a shock. And I'm sure he isn't the only one who considers himself a patriot for doing things like that. As if the social more that men must remove their hats during the anthem was not a completely arbitrary rule. If this violent thug had been raised to believe that it's disrespectful to do the opposite, to remove one's hat during the anthem, he would be just as infuriated when that happened. Because there is no inherent reason why wearing or not wearing a hat shows respect for this or anything else. We're just raised to believe it, so we do. Well, some of us do. I couldn't care less either way, except when vile people like this guy decide to enforce such arbitrary rules with violence..