Trump is again selling out our ally South Korea and siding with North Korean dictator Kim Jong-un over joint United States – South Korea military exercises. Trump calls them pointless and wasteful, the same thing Kim calls them. And he says Kim wrote him another "beautiful" letter that has worked its charms on him.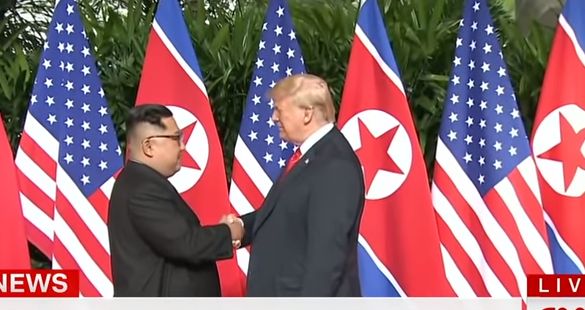 President Trump on Saturday appeared to side with North Korean dictator Kim Jong Un in renewing his objections to joint military exercises with South Korea, calling such drills "ridiculous and expensive" at a time when Pyongyang has been testing short-range missiles.

In a pair of morning tweets from his resort in Bedminster, N.J., where he arrived late Friday for a 10-day vacation, Trump said Kim objected to the exercises in a letter and suggested that the missile tests would end once the drills are finished.

"It was a long letter, much of it complaining about the ridiculous and expensive exercises," Trump wrote, asserting that the letter amounted to "a small apology for testing the short range missiles."

Trump also said Kim suggested that negotiations over its nuclear weapons program, which have been dormant since a second summit in Hanoi broke off without an agreement in February, could resume after the joint exercises conclude.
In other words, he wants to give Kim everything he wants and continue to divide one of our closest strategic relationships. This is exactly what Kim wanted when he restarted the nuclear testing, to extract these concessions. And as usual, we'd get nothing for it. Such a great negotiator.