Rep. Steve King may finally have gone too far and killed his political career. His fellow Republicans have had enough of his white supremacist rhetoric and stripped him of all his committee assignments and the public in Iowa seems to have tired of his antics. He held a town hall meeting in his district recently and had just one person showed up to it. One. Uno. And that one person is a Democrat.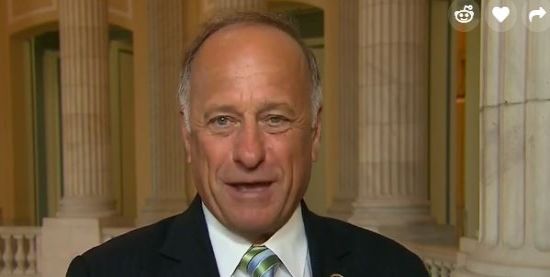 A photo of the near-empty room by a Reuters photographer quickly went viral Saturday afternoon, showing only two people in a room of mostly-empty chairs. However, as Birch explained, the other woman on the left in the photo was an intern for King. Birch, who lives in Dike, Iowa, was the only constituent of King's not required to attend to show up.

"I was the only person who was not paid to be there," she said.
And that one person is a Democrat. That's how pathetic it was. Here's that Reuters image:
The scene at Steve King's town hall today in Grundy Center, Iowa. Photo by Brenna Norman pic.twitter.com/PEtHkmmaFN

— corinne_perkins (@corinne_perkins) August 17, 2019
I think it may finally be over for King. And CNN is reporting that Trump is furious because he believes King may have killed his chances of winning Iowa in 2016.
"You also have a president that feels he's a distraction no matter what he says," Ryan then added. "This president is having a problem in Iowa, another state he is having a problem in, and Steve King is not helping. Republicans are doing a lot of things, talking behind closed doors and Steve King is in trouble. All of this stuff is coming up, it's catching up with him."
He's going to have a primary challenger and Trump and many Republican leaders are probably going to support whoever that is.