Stop if you've heard this one before, or heard it several times in just the last couple weeks. A New Jersey neo-Nazi has been arrested with a massive cache of illegal weapons, along with Nazi literature and even instructions on how to own slaves. Seriously.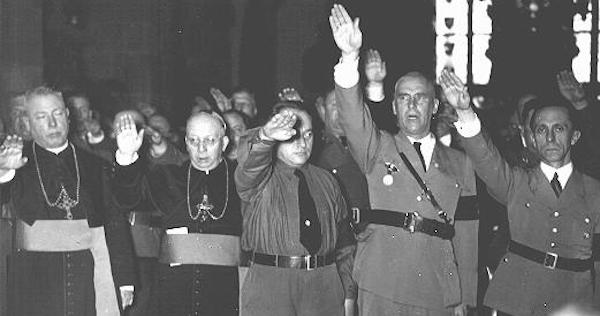 State Police troopers who responded to the scene of a traffic accident last month said they found three firearms inside the driver's vehicle, along with bullets and brass knuckles that led to the discovery of a bigger weapons cache at the man's Sussex County home.

Joseph Rubino, 57, of Lafayette Township, now faces several firearms charges and a drug-trafficking charge, according to U.S. Attorney Craig Carpenito…

Police seized a semi-automatic assault handgun, a 9mm semi-automatic assault pistol with a high-capacity magazine, a loaded 9mm pistol, two barrels sawed off from a double-barrel shotgun, a sight for an assault rifle and a stripped AR-15 bolt carrier, authorities said. Police also found ammunition, including a high-capacity magazine with 12 bullets and several solid and hollow-point bullets, authorities said. In addition to brass knuckles, they also found a wooden ax handle, a baseball bat and a wooden club, authorities said.

Police then obtained a search warrant for Rubino's home, where they found 14 more firearms, including assault rifles, shotguns, and handguns, authorities said. They also found four high-capacity magazines, ammunition, a grenade launcher, silencer tubes and a ballistics vest, authorities said…

Inside both the vehicle and the home, police found clothing and bumper stickers with white supremacist and Neo-Nazi slogans along with a document "containing racist material and purporting to be an instruction manual for owning a slave," the complaint states.
By my count, that's at least four whites supremacists who've been arrested after they're found to have a mountain of weapons, but this is the first one to have a freaking grenade launcher. Welcome to Trumpworld.