Trump shared a tweet from Wayne Allyn Root, a far-right conspiracy nut that I've written about a lot, in response to his claim that any Jew who votes for a Democrat is being disloyal to other Jews and to the state of Israel. Root said the Israeli people adore Trump the way they would the king of Israel or the "second coming of God."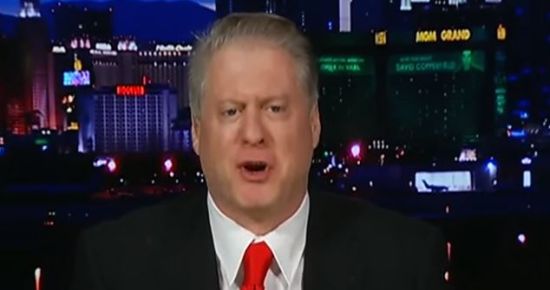 "Thank you to Wayne Allyn Root for the very nice words," Trump tweeted. "'President Trump is the greatest President for Jews and for Israel in the history of the world, not just America, he is the best President for Israel in the history of the world…and the Jewish people in Israel love him like he's the King of Israel.'"

"'They love him like he is the second coming of God,'" the quote continued. "'But American Jews don't know him or like him. They don't even know what they're doing or saying anymore. It makes no sense! But that's OK, if he keeps doing what he's doing, he's good for all Jews, Blacks, Gays, everyone. And importantly, he's good for everyone in America who wants a job.'"
Root is a serious extremist crackpot who routinely makes the most outrageous statements and pushes ridiculous conspiracy theories. And this is not just some random blogger Trump doesn't know, he and Root go way back and Root has partied with him at Mar-a-Lago. Media Matters has a list of some of the outrageous things Root has said:
Root called President Barack Obama "Marxist-in-chief" and said he ran a "gangster government" and "declared war on capitalism."

Root compared taxation to being robbed at gunpoint.

Root helped push a hoax about a made-up Puerto Rican trucker strike to absolve Trump of blame over the administration's lackluster response to Hurricane Maria.

Root  joined other fake news purveyors in falsely shifting blame for the 2016 election hacking of Democrats to China from Russia…

Root promoted a conspiracy theory that Obama blackmailed Chief Justice John Roberts after he reaffirmed the constitutionality of the Affordable Care Act…

Root pushed the right-wing conspiracy theory that Democratic National Committee staffer Seth Rich was murdered by high-ranking Democrat officials.

Root was strongly criticized for falsely linking the October 2017 Las Vegas mass shooting to Islamic terrorism and refused to apologized afterward, instead insisting that he heard about the connection from "credible news sources" like far-right conspiratorial website The Gateway Pundit…

When a white nationalist murdered counterprotestor Heather Heyer at a white nationalist rally in Charlottesville, VA, in 2017, Root claimed that the story was "such B.S." and that the protestors and killer were "probably paid actors & infiltrators hired by Soros. No conservative I've ever met commits violence. EVER."
And that's just a small sample. Root has a show on Newsmax TV and every day brings a new claim that is nothing short of laughable. And Trump loves him and promotes him. Seems appropriate and predictable.