Trump has canceled a planned trip to Denmark because the prime minister of that country, Mette Frederiksen, after she said that his desire to buy Greenland is an "absurd" idea. That's all it took for Trump's infinitely thin skin and endless pettiness to come out, canceling the trip because, he said, her comment was "nasty," which seems to be one of his favorite words to react in feigned outrage at the slightest criticism.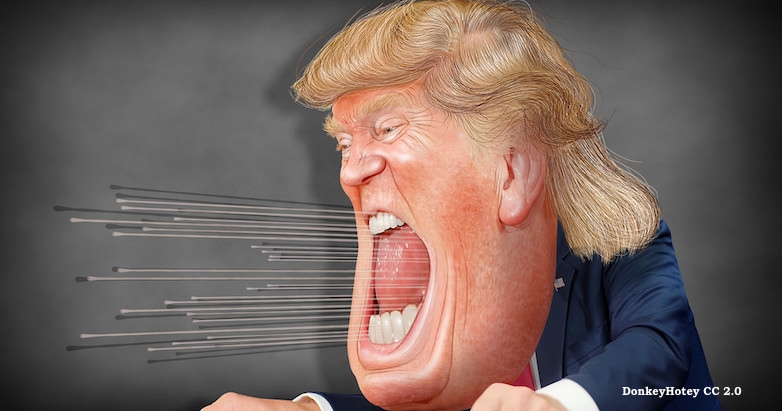 President Trump on Wednesday attacked Danish Prime Minister Mette Frederiksen, saying she had made "nasty" comments about his interest in having the United States purchase Greenland.

Trump announced Tuesday night that he was abruptly calling off a planned two-day state visit to Copenhagen next month over Frederiksen's refusal to entertain the sale of Greenland, a self-governing country that is part of the kingdom of Denmark…

Frederiksen called the idea of the sale of Greenland "absurd" over the weekend after news broke of Trump's interest — a characterization that apparently offended him.

"I thought it was not a nice statement, the way she blew me off," Trump told reporters at the White House on Wednesday. "She shouldn't treat the United States that way … She said 'absurd.' That's not the right word to use."
Seriously, Donald Trump is outraged (wink, wink) at someone else being "nasty" after all the vicious things he's said about other people? So it's fine to call a woman a fat slob and a dog, but to call an idea absurd — an idea that really IS absurd — that just crosses the line. Give me a break. But it turns out this is probably just an excuse to get out of a trip he didn't want to take anyway:
A Trump adviser said the president was annoyed at planned back-to-back trips to Europe and the extensive flying involved and that the comments by Frederiksen gave him a reason to cancel the Denmark leg. Trump is scheduled to leave later this week for a Group of Seven summit in France.

"He is not looking forward to any of it," said the adviser, who spoke to Trump this week and requested anonymity to share a private conversation.
And he just doesn't care how that makes him look, and how it makes the entire country look. He's a toddler, he just wants to get his way, and if that requires that he pretend to be shocked at such a mild criticism, so be it. Just give him the cookie and he'll shut up.