A few days before a white supremacist opened fire in a Walmart in El Paso, Texas with the aim of killing as many Latinos as he could, Tucker Carlson claimed that white supremacy is not a serious problem and neither is violence or domestic terrorism from those people. Since then, in addition to that mass shooting, five other white supremacists have been arrested for making threats and having huge caches of weapons.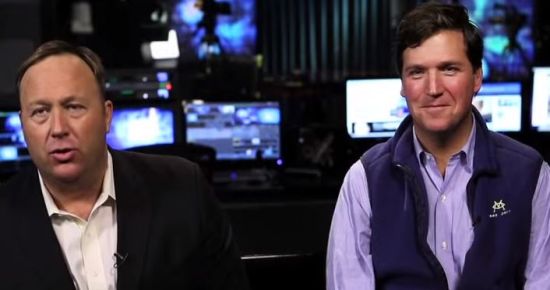 Fox News host Tucker Carlson has insisted that white supremacist violence is not a pressing issue in America. But such a declaration doesn't seem to have stopped actual white supremacists in several instances of apparent domestic terror plots that have been thwarted by authorities in just the past two weeks.

On the August 6 edition of Tucker Carlson Tonight — broadcast just days after a suspected gunman killed 22 people at a Walmart in El Paso, TX, and after the gunman allegedly posted a white nationalist manifesto online — Carlson declared that it was a "lie" that white supremacy is even an urgent problem in America. "If you were to assemble a list, a hierarchy of concerns of problems this country faces, where would white supremacy be on the list?" Carlson asked rhetorically. "Right up there with Russia, probably. … Just like the Russia hoax, it's a conspiracy theory used to divide the country and keep a hold on power. That's exactly what's going on."
He's been screaming that white supremacist violence is not a problem while people are being murdered by white supremacists on a regular basis. This was after the mass shooting in Gilroy, California by a white supremacist, the terrorist attack on a synagogue in Pittsburgh and many other similar incidents. Denial of reality is Carlson's specialty, but that seems to be true of the entire right-wing media.