The armed services have caught dozens of white supremacists and neo-Nazis in their ranks and it appears there are two more to worry about. An Air Force Master Sergeant is under investigation for his ties to a white supremacist group. The investigation is now complete, but he hasn't been punished or discharged yet.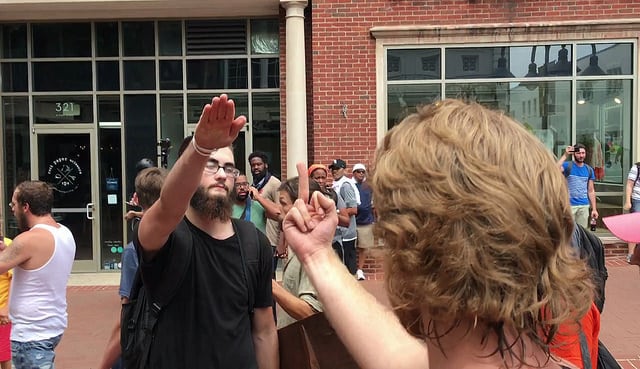 A master sergeant based at Schriever Air Force Base remains employed after the military completed its investigation into his ties with a white nationalist group.

The Air Force finished its investigation into Master Sgt. Cory Reeves and officials are taking the action deemed appropriate, said Ann Stefanek, a spokeswoman for the U.S. Air Force. She confirmed Reeves remains at his same rank and continues to be employed by the military branch more than three months after the military became aware of Reeves's alleged ties with Identity Evropa, one of the most visible white supremacist groups in Colorado.

She said no further information could be provided and declined to answer other questions, including whether the investigation confirmed Reeves involvement in Identity Evropa and what discipline he faced, if any.
Sorry, but that just isn't good enough. There are many pictures on the Identity Evropa social media pages and video of him painting a mural with the group's logo in Denver. If that isn't enough to conclude that he's a white supremacist, what on earth would it take? And if they've so identified him, he should be dishonorably discharged and the results should be made public. Anything less looks like an attempt to cover it up. If he's still on the job in another week or two, there should be demands for action and protests demanding his dismissal.
And in the army, the commander of a recruiting company sent out a memo that cited the Nazi slogan "Arbeit Macht Frei" (work will set you free). That phrase appeared in huge signs at Auschwitz, Dachau and other Nazi concentration camps.
Kelli Bland, director of public affairs for U.S. Army Recruiting Command, told Task & Purpose in a statement that they are aware of the memo, and that the commander of the recruiting company has been suspended, pending an investigation into the issue.

It's unclear which recruiting company was involved.

"Army recruiting leaders will take appropriate action once the investigation is complete and all facts are known," Bland said. "When an individual enters into the military, they are held to high moral and ethical standards — Soldiers who choose not to live up to our values will be held accountable for their actions."
An investigation is underway after an Army recruiting company commander in Houston, Texas, issued a memo that included a phrase used by Nazis and displayed in death camps during World War II, "Arbeit Macht Frei," which roughly translates to "work sets you free."
Here's a photo of the memo itself:
.@USArmy Recruiting Battalion Houston is probably going to have a rough Thursday morning. I'm sure @HolocaustMuseum may have some thoughts on this one. pic.twitter.com/ctYAwtZ4Zf

— James LaPorta (@JimLaPorta) August 22, 2019
By itself, this doesn't prove that he's a Nazi, but it merits investigation and at the very least it's appalling judgment that should be punished. He should at least be stripped of his command. Again, we'll have to wait for any decision from the army, but it needs to be made public. That would hold both him and the army accountable.