As bad as the vile Jerry Falwell was, his son Jerry Falwell, Jr. may actually be worse. That's especially true in terms of financial corruption, as many high-ranking Liberty University officials confided to Politico for an investigative report. One bluntly says that it's not a university, it's a hedge fund making real estate deals to benefit Falwell, Jr. and his friends.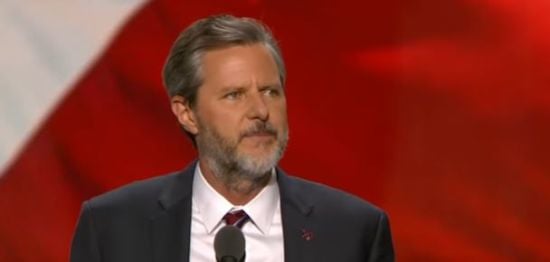 More than two dozen current and former high-ranking Liberty University officials and close associates of Falwell spoke to me or provided documents for this article, opening up—for the first time at an institution so intimately associated with the Falwell family—about what they've experienced and why they don't think he's the right man to lead Liberty University or serve as a figurehead in the Christian conservative movement.

In interviews over the past eight months, they depicted how Falwell and his wife, Becki, consolidated power at Liberty University and how Falwell presides over a culture of self-dealing, directing university resources into projects and real estate deals in which his friends and family have stood to make personal financial gains. Among the previously unreported revelations are Falwell's decision to hire his son Trey's company to manage a shopping center owned by the university, Falwell's advocacy for loans given by the university to his friends, and Falwell's awarding university contracts to businesses owned by his friends.

"We're not a school; we're a real estate hedge fund," said a senior university official with inside knowledge of Liberty's finances. "We're not educating; we're buying real estate every year and taking students' money to do it."

Liberty employees detailed other instances of Falwell's behavior that they see as falling short of the standard of conduct they expect from conservative Christian leaders, from partying at nightclubs, to graphically discussing his sex life with employees, to electioneering that makes uneasy even those who fondly remember the heyday of the late Rev. Jerry Falwell Sr., the school's founder and Falwell Jr.'s father, and his Moral Majority.
When you have people fondly reminiscing about Falwell, Sr. because his son, who took over the "university" when he died, is far worse, that's a serious problem. Falwell Jr's backing of Donald Trump is hardly a surprise given this level of financial corruption. They are two peas in a pod. Both are faking their religious belief for political and financial gain.