The Houthi rebels in Yemen sent drones to attack on the Abqaiq oil processing facility in Saudi Arabia as well as one of that nation's largest oil fields, destroying, for now at least, more than half of Saudi's oil production capacity. It halts the production of 5.7 million barrels per day out of the total Saudi production of 9.85 million barrels.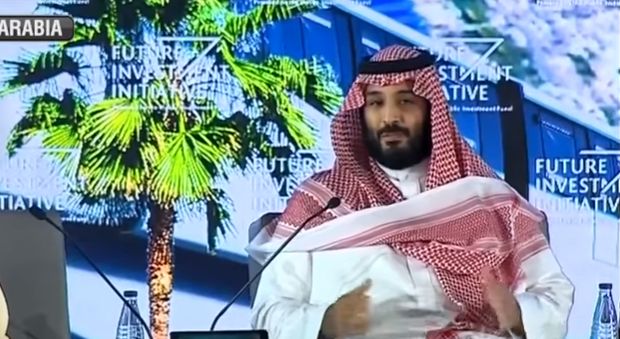 Explosions and towering fireballs struck the heart of Saudi Arabia's oil empire on Saturday in an apparent wave of drone attacks claimed by Yemen's Houthi rebels. The blows knocked out more than half the kingdom's oil output for days or more and threatened to drive up already high tensions between Iran and its foes in the Persian Gulf.

The predawn blasts on facilities of the state-run oil giant Aramco — which the rebel group claimed were carried out by a fleet of 10 drones — marked one of the most devastating strikes into Saudi territory claimed by the Iranian-allied Houthis in more than four years of war in Yemen…

Khurais is one of Saudi Arabia's largest oil fields and is believed to produce about 1.5 million barrels per day. Abqaiq is the site of the kingdom's largest oil processing facility, operated by Saudi oil giant Aramco. It may be the world's most important piece of oil infrastructure, built to process about 7 million barrels a day of oil so that it can be shipped out of the Persian Gulf to foreign markets.

Saudi Arabia produced 9.85 million barrels of oil a day in August, making up about 10 percent of the global supply.
The production shutdown reduces total global oil output by about 6%, which is pretty staggering and likely to raise oil and gas prices. How high it raises those rates will depend on how quickly Saudi Arabia can get the processing facility back up and running. There are several key issues and questions raised by attacks. First, it's clear that the Houthi rebels are becoming much more sophisticated. These attacks were not in the Southern part of the country, as previous attacks have been, it was hundreds of miles from Yemen. Second, it raises serious questions about Saudi Arabia's ability to protect itself against such attacks in the future.
Third, what will the response be, from both Saudi Arabia and Trump? They're blaming Iran, which is aligned with the rebels, for the entire attack, something they deny. This could very well prompt the Saudis to become much more aggressive in attacking inside Yemen. And we are knee deep in it. They're using weapons we sold them in their war against the rebels, which took over the Yemeni government years ago. Saudi Arabia wants to restore the government that was overthrown. Does this prompt Trump to get more directly involved and use American drones and missiles ourselves in Yemen? This whole thing carries serious risk of a region-wide war involving multiple countries that could be disastrous in every way.
Trump sent a dangerous signal when he tweeted out Sunday evening that we were "locked and loaded" and waiting for Saudi Arabia to say who they think was behind the attacks. They're going to say Iran, their biggest geopolitical rival, of course. If we or the Saudis were to launch a military attack on Iran, it would almost certainly create a region-wide war that would be disastrous for everyone involved. Huge numbers of people would die and soaring oil prices would likely push the world economy into a deep recession. These are very dangerous times.
The other key question here is why did the Houthis do this? There are not really any good guys in all of this, but Saudi Arabia's attacks on them in Yemen have led to what human rights groups say is the worst humanitarian crisis in the world today. They've killed about 100,000 people and prompted mass starvation and disease. The Houthis have their own human rights violations, including torturing civilians. For all purposes, Yemen is now a failed state without a functioning government. At some point, this has to end, hopefully with a multilateral agreement and UN peacekeeping troops to try to restore some kind of peace and stability. The UN says a child dies every ten minutes in Yemen because of this war. One way or another, it has to end. My fear is that it's about to get much worse instead.