On ABC's This Week, George Stephanopoulos interviewed Ted Cruz and brought up some very harsh, but entirely accurate, things he said about Donald Trump during the 2016 presidential campaign. Cruz mostly dodged it and unfortunately Stephanopoulos didn't leave time to ask an obvious follow-up.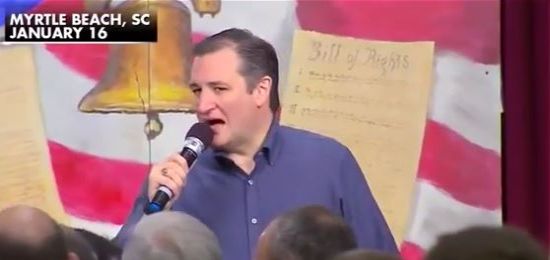 At the tail-end of a Sunday interview on ABC's This Week, anchor George Stephanopoulos confronted Sen. Ted Cruz (R-TX) with his previous claims that then-candidate Donald Trump was a "pathological liar" and a "bully," asking the former GOP presidential candidate to explain his current full-throated support for the president.

"You said 'imagine what will happen in the next five years if he were president,'" the ABC host said. "Now you're supporting him for re-election. He's unified the Republican Party behind him as well. How do you explain that? Were you just wrong then? What changed?"

Cruz, meanwhile, insisted that "results matter" and that Trump has "delivered on policy," pointing to tax cuts and deregulation.
But results have nothing to do with Cruz absolutely accurate claim that Trump is a pathological liar. Does he still think that? Did he ever actually think that or was he just saying it to attack a rival primary candidate? Is Trump no longer a pathological liar? He's certainly proven to be exactly that during his time in the White House. Or does he no longer care that he's a pathological liar? There are so many obvious follow-up questions to be asked and he didn't ask any of them. This same question should be asked of every one of Trump's rival candidates in 2016, especially people like Lindsay Graham and Marco Rubio, both of whom bluntly called Trump a con man, which of course he is. Put them on the spot and don't let them squirm out of it with mealy-mouthed dodges.