Brian Kilmeade, the second dumbest man on television, has an absolutely ludicrous explanation for why Colin Kaepernick's protest. He says he just grabbed on to the injustice in law enforcement as a justification, but he really did it because "it was convenient and he was depressed."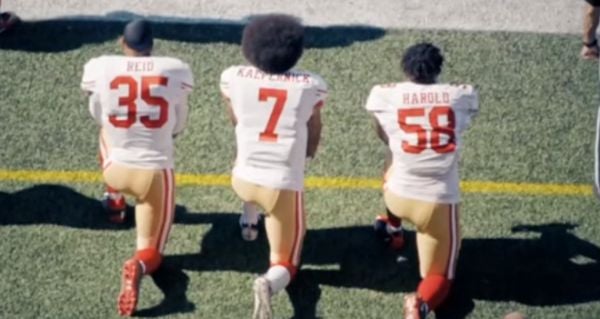 DAVID ASMAN (ANCHOR, GUEST HOST): Colin Kaepernick getting an Emmy, or at least the ad he was in got an Emmy? Tell us about it?

BRIAN KILMEADE (CO-HOST, FOX & FRIENDS): I think the ad is good, I think it is well done.

ASMAN: This was the first ad that came out, and there have been subsequent ones. Go ahead.

KILMEADE: You know, it talked about his sacrifice by taking a knee. The problem is, this isn't Muhammad Ali, this isn't Martin Luther King. This is a guy that was a backup quarterback, that took a knee, and grabbed something on it, and said, "Blame law enforcement for what's happening in this country," and now is a martyr — can't get a job. That is not Muhammad Ali. That is not Jim Brown. That is not Kareem Abdul-Jabbar standing up for race in America. For me, he took a knee because it was convenient and he was depressed. If he was starting, this whole thing wouldn't have started. But the ad was first class, and the message was strong.
This is one of the ways that white privilege operates. They want to talk about anything other than racism, so they invent these asinine excuses to avoid having to talk about the real issue, which is the racist nature of our criminal justice system and how it operates to systematically keep black people "in their proper place," so to speak. Dodge, duck, dip, dive and dodge, as Patches O'Houlihan liked to say.