Trump spoke to reporters during the "grand opening" of a new segment of his long-awaited border wall, which replaces 14 miles of already existing wall, and lied about how they had 20 "world class mountain climbers" who tried and failed to climb the "impenetrable" barrier on Otay Mesa, California.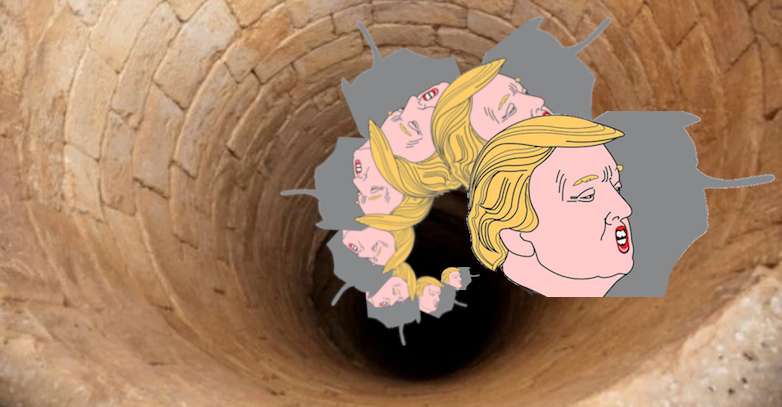 "We have, I guess you could say, world-class mountain climbers. We got climbers," Trump said beside a newly finished section of the barrier in Otay Mesa, California, which tops heights of 30 feet. "We had 20 mountain climbers. That's all they do—they love to climb mountains. They can have it. Me, I don't want to climb mountains. But they're very good, and some of them were champions. And we gave them different prototypes of walls, and this was the one that was hardest to climb."

The climber test, Trump boasted, is proof that "this wall can't be climbed."
So the Daily Beast contacted the nation's top-ranked mountain climbers. None of them had a clue what he was talking about and said they had not heard of a single climber trying to scale the wall.
"I have never heard of any climbers ever being recruited to try and climb a border wall," said Jesse Grupper, who won the gold medal in the men's sport lead category of this year's USA Climbing Sport & Speed Open National Championships.

"I absolutely have not heard of anyone testing sections of border wall," said Kyra Condie, who currently ranks second among the nation's women boulderers and is considered a serious contender for the U.S. team when the sport makes its Olympic debut in Tokyo next year. "It would even be hard to find any of us willing to do anything to help Trump and his efforts in any way."

"Definitely no well-recognized U.S. climbers have taken part in something like that," said Ross Fulkerson, a seven-time member of the U.S. national team who is currently ranked third in the country. "I haven't heard of any climbers ever helping out with testing."

Speaking to the nation's top-ranked climbing athletes, past climbing and bouldering champions, and sports associations, The Daily Beast sought clues to the identity of any climber who might have participated in such a test. Not a single person in the tight-knit community of world-class climbers had heard a single word about any border wall experiment…

"Walls continue to activate the basic human sense for adventure and freedom to explore," said Phil Powers, CEO of the American Alpine Club, who was in the nation's capital this week with 60 of the sport's top athletes to advocate for action on climate change. "I am not aware of any climbers who have been hired to test walls. I would think if any of our very best had done so, we would know."
So he was lying. As usual. The Daily Beast also contacted the White House, Customs and Border Security and the Army Corps of Engineers, who actually built the wall. They got no response from any of them. They know he was lying but they can't come out and say that, so they're saying nothing. Trump could, of course, easily prove his claim by releasing the names of the climbers involved. He won't do that, because they don't exist. I keep wanting to end my posts on Trump with the line the late, great Molly Ivins used to use to close her columns about similar nonsense: "And so it goes."