Brendan Dilly, a self-defined "MAGA life coach" who is on record saying that conservatives should tell lies as long as it makes Trump's enemies look bad, says it isn't enough for liberals to be defeated. No, he said, they must be jailed for treason, utterly destroyed and put to death. Only that will satisfy him.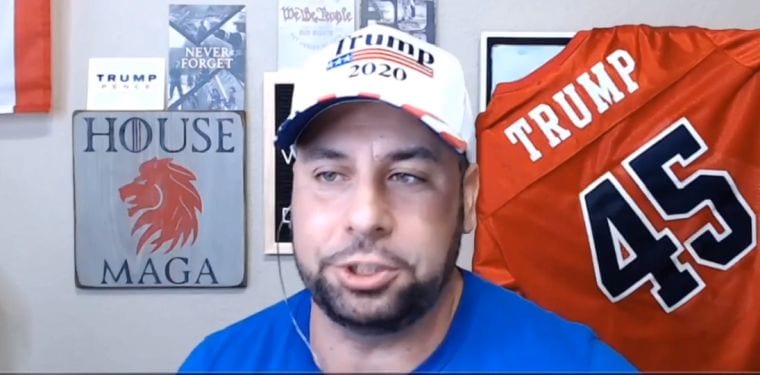 "I want to win and I won't consider it total victory without destroying our enemies," Dilley said. "I don't want to hold your hand. I want to stomp you into the fucking ground. I want Donald Trump to bury you treasonous pricks under the prison. I don't want to just win. Winning is a formality at this point. Destroying you motherfuckers is way more important."

"I won't consider it a total victory without destroying you, entirely," he added. "Your entire fucking life. Everything you've built, I want to ruin it. I won't be done, and this won't be a job well done, and none of us will be satisfied until all of you pricks are gone. Not just gone; gone like totally gone."

"There is no room for mercy," Dilley continued. "We don't have any time for weakness. I don't want anybody on this team that wants to lift their foot off the throat of the Democrats right now. None of them. It won't be enough. I want to win in November of next year and I want to keep curb-stomping these motherfuckers well beyond that."

"You've got to destroy your enemy," he said. "You have to make sure that your enemy can never play the game again and the only way you do that is with total annihilation … You have to lock up these treasonous motherfuckers and they all have to go to jail."

Pointing to a photo of a noose, Dilley declared that "there is one solution and one solution only to save America and I think you know what it is. It's a zero-sum game and if you don't have the stomach for it, I don't know what to tell you."
This is another of those far-right extremists who should be on a watch list. He's exactly the kind of person who ends up going on a klling spree, shooting up a newsroom or some other violent slaughter of his perceived enemies.