In court this week, Trump's DOJ is arguing that Congress should not have access to the grand jury testimony and other evidence gathered during the Mueller investigation. This was an argument tried by Nixon as well and it failed then. The DOJ says now that it was wrongly decided and the evidence should be kept from Congressional investigations.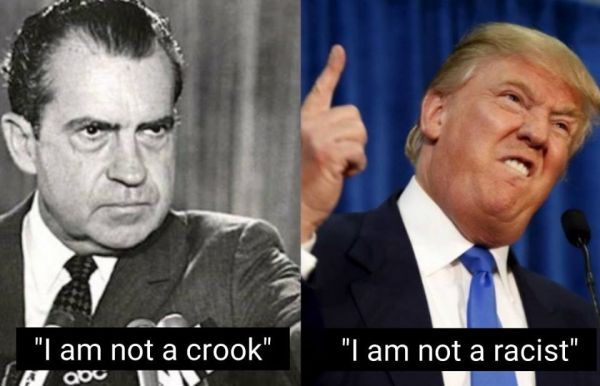 The case then was titled Haldeman v Sirica, named after Chief U.S. District Judge John J. Sirica, who transferred grand jury testimony in a sealed report to Congressional investigators during the Watergate hearings. An appeals court upheld Sirica's actions, saying that Congressional investigations are exempted from the law that prohibits prosecutors from revealing grand jury testimony in a criminal case.
Justice Department lawyers urged a federal judge Tuesday to deny a House Judiciary Committee request for grand-jury materials from former special counsel Robert S. Mueller III's investigation, arguing that despite legal rulings during the impeachment inquiry into President Richard M. Nixon, in hindsight courts in 1974 should not have given Congress materials from the Watergate grand jury.

"Wow, okay," Chief U.S. District Judge Beryl A. Howell of Washington responded, sounding unpersuaded. "As I said, the department is taking extraordinary positions in this case."

Howell called the stance one of several "extreme" arguments presented by Trump administration lawyers in opposing the House request for Mueller grand-jury materials, part of a widening impeachment investigation of President Trump.

Howell, a 2010 appointee of President Barack Obama, pressed veteran Justice Department civil division litigator Elizabeth J. Shapiro on whether the department now viewed as "wrongly decided" a landmark ruling by then-Chief U.S. District Judge John J. Sirica that transferred a sealed report and grand-jury evidence to House investigators, who prepared Nixon's articles of impeachment…

"If that same case were heard today, a different result would obtain," Shapiro said, saying Sirica relied on an "ambiguous" interpretation of law that no longer is valid.
The DOJ is arguing that the D.C Circuit Court of Appeals overturned that ruling in a case called McKeever v. Barr earlier this year. But they're wrong. While that new ruling did say that a judge has no "inherent authority" to transmit such testimony, it also found that a Congressional impeachment investigation is still a "judicial proceeding" under the grand jury secrecy rules and is this still exempted from restrictions on it. It's clear that Howell is skeptical of the DOJ's reasoning, to say the very least. They aren't gonna win on this one, nor should they.