A senior State Department official who oversees our policy in Ukraine told a Congressional committee that the entire project to pressure that country to investigate Biden was taken out of his portfolio and that Trump instead had it run out of the White House by Chief of Staff Mick Mulvaney, Energy Secretary Rick Perry and Ambassador to the E.U. Gordon Sundland.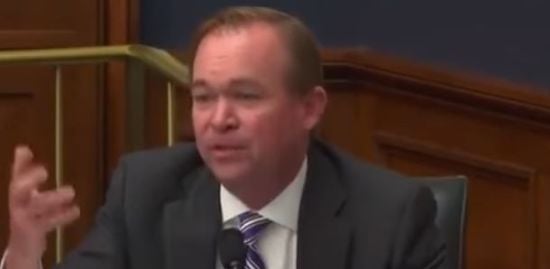 Acting White House chief of staff Mick Mulvaney organized a meeting this spring in which officials were determined to take Ukraine policy out of the traditional channels, putting Energy Secretary Rick Perry, U.S. Ambassador to the European Union Gordon Sondland and special U.S. envoy to Ukraine Kurt Volker in charge instead, a top State Department official told lawmakers Tuesday.

George Kent, the deputy assistant secretary of state responsible for Ukraine, told House investigators he was instructed to "lay low," focus on the five other countries in his portfolio and defer to Volker, Sondland and Perry — who called themselves the "three amigos" — on matters related to Ukraine, Rep. Gerald E. Connolly (D-Va.) told reporters Tuesday. Kent took that as a sign, Connolly added, that having been critical of the plan he was being pushed aside "because what he was saying was not welcome" at high levels of the government.

Mulvaney's meeting, which Kent told lawmakers took place on May 23, according to Connolly, was just days after the administration recalled Marie Yovanovitch from her post as U.S. ambassador to Ukraine. Yovanovitch spoke to House investigators last week about the campaign against her, which she and other former diplomats have said was organized by President Trump's personal lawyer Rudolph W. Giuliani.
So basically Trump cut the State Department out of a major diplomatic matter so he could use our foreign policy apparatus for his own political gain. Sondland's role in all of this remains murky. He is supposed to testify before that committee as well and is going to tell them that the email he wrote saying there was no quid pro quo to pressure Ukraine to relaunch the Biden investigation was dictated to him by Trump. But Fiona Hill, a former Deputy National Security Adviser in the White House, told the committee that Sondland himself is the one who told Ukrainian President Zelensky that he would only get his sought-after meeting with Trump if he complied with the request. One can only hope that he's had a crisis of conscience and decided to come clean. His testimony should be very interesting when he's asked about what Hill said.