As I wrote the other day, the role of U.S. Ambassador to the European Union Gordon Sondland's role in the attempt to pressure Ukrainian President Zelensky to reopen an investigation into Hunter Biden remains a bit confusing. But he told Congress that Trump "outsourced" his foreign policy in the matter to Rudy Giuliani, which he went along with but is now coming clean about.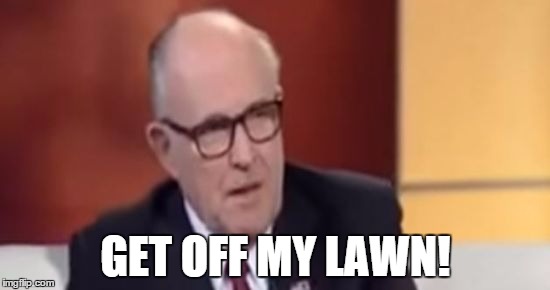 While Mulvaney spoke Thursday, members of the House Intelligence, Oversight and Foreign Affairs committees — which are conducting the impeachment probe — met behind closed doors with U.S. Ambassador to the European Union Gordon Sondland, who told them that Trump had outsourced official U.S. policy on Ukraine to his personal attorney, Rudolph W. Giuliani.

Sondland was uncomfortable with that decision, he testified, though he still carried out the strategy.

"I would not have recommended that Mr. Giuliani or any private citizen be involved in these foreign policy matters," Sondland said, according to his prepared remarks…

Sondland said in principle he opposes any "quid pro quo" that would exchange U.S. support to a friendly nation for an investigation into the Bidens.

But he said he became aware only recently that Trump's efforts to investigate the Ukrainian energy company Burisma were due to its associations with Biden, whose son Hunter sat on its board.

"I did not understand, until much later, that Mr. Giuliani's agenda might have also included an effort to prompt the Ukrainians to investigate Vice President Biden or his son or to involve Ukrainians, directly or indirectly, in the President's 2020 reelection campaign," he said, explaining that he "understood that Burisma was one of many examples of Ukrainian companies run by oligarchs and lacking the type of corporate governance structures found in Western companies."
That's the part that tends to strain credulity a bit. How could he not have known? Giuliani was all over TV at the time demanding that Ukraine reopen the investigation and according to a former Deputy National Security Adviser to Trump, it was Sondland himself who met with Ukrainian officials and told them that Zelinsky would only get his much-desired White House meeting with Trump if they did so. I have no doubt he's telling the truth here, but he's also trying to make himself seem far more of an innocent bystander in this than he really was.
Sondland was a major Trump donor who made a fortune in the hotel industry and he had zero qualifications for the ambassador post when Trump put him there. But remember, he only hires the best people.