Trump lashed out over the criticism he took for trying to host next year's G7 summit at his Doral resort in Florida, which would have brought a huge windfall to his business. He called the emolument clause "phony." No Donald, it's very real and it's in the Constitution that you know nothing about and couldn't care about if you did.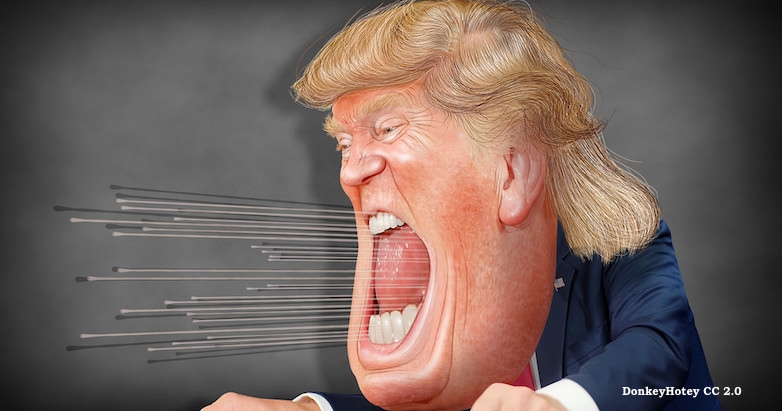 After facing criticism for his previous plan to host the next G7 Summit at one of his resorts in Miami, President Trump on Monday called the foreign emoluments clause in the U.S. Constitution "phony." Trump told reporters in the White House that he has no obligation to put his businesses in trusts, claiming that George Washington simultaneously ran a business while being president. "You people with this phony emoluments clause… and by the way, I would say that it's cost anywhere between $2 to $5 billion to be president, and that's okay," he said. "I would have made a fortune, if I just ran by business." He also railed against former President Obama's media deals that were unveiled after he had left office. "Hey, Obama made a deal for a book—is that running a business? I'm sure he didn't even discuss it while he was president," Trump said. "He has a deal with Netflix. When did they start talking about that?"
I don't know, do you have evidence that Obama struck those deals while still in office? Wait, why am I asking Trump for evidence? He doesn't care about evidence. If he wants it to be true, it magically becomes true. He also claims that Doral had booming business when he bought it but has now fallen on hard times because politics prevents people from going there. Right. And it's a coincidence that his annual fee to join Mar-a-Lago doubled the moment he became president.
And this claim that being president has cost him billions of dollars is so ridiculous that all one can do is laugh. So what he's saying is that his two sons are so incompetent that they're killing his business, but if he was still running it (which he is, of course, just by proxy; that's why blind trusts are set up) it would be booming. Duly noted. But he's just striking the selfless hero pose — see what I'm sacrificing to be president? You should be very grateful that I'm so generous and magnanimous and love my country so much that I'm willing to give up billions of dollars to lead you. Pardon me while I vomit.