Trump supporters know that the testimony of Lt. Col. Vindman did a great deal of damage to him during the impeachment inquiry, so they're desperate to undermine him and making some truly vile attacks questioning his patriotism, claiming he's a Ukrainian spy and similar accusations. They've been all over the right-wing media spewing these talking points.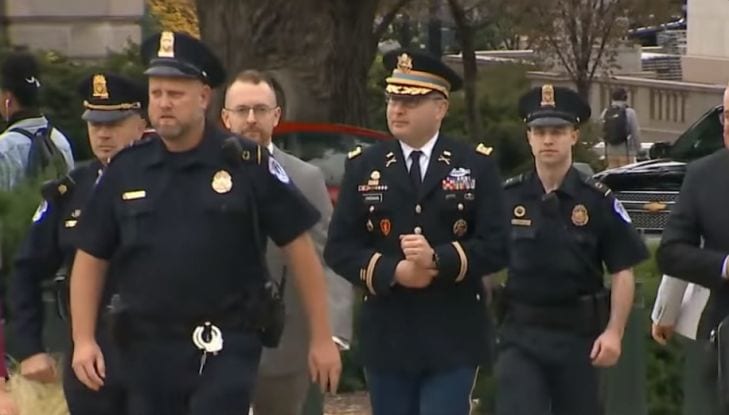 They have seized on the fact that he was born in Ukraine and his family came here when he was 3 years old and that he speaks fluent Ukrainian and Russian. To rational people, that's laudable and makes him well-qualified to do his job as a Ukraine analyst. That's why he got his job as the expert on that country for the National Security Council.
CNN contributor and former Rep. Sean Duffy (R-WI) claimed Vindman is "incredibly concerned about Ukrainian defense," but "I don't know that he's concerned about American policy." Duffy added, "We all have an affinity to our homeland where we came from." Duffy received strong pushback from co-anchor John Berman.

On The Ingraham Angle, Fox News contributor John Yoo, who authored a series of infamous Justice Department arguments in support of torture, suggested that "some people might" accuse Vindman of "espionage" for advising Ukraine. Ingraham framed the fact that "Col. Vindman emigrated from Ukraine along with his family when he was a child and is fluent in Ukrainian and Russian" as a nefarious detail…

On Fox & Friends, co-host Brian Kilmeade claimed that Vindman "has an affinity to the Ukrainian people." Kilmeade later said that Vindman "tends to feel simpatico with the Ukraine."…

Conservative writer Will Chamberlain tweeted: "Maybe Vindman should have resigned from the NSC and taken up lobbying for Ukraine."

Steve Bannon, Raheem Kassam, and Jason Miller discussed Vindman's testimony on Bannon's podcast. Kassam made clear that he was questioning Vindman's patriotism, and Miller said that Vindman's testimony was tantamount to a military coup.
The picture they're painting is obvious. He's a traitor and double agent who was engaged in espionage and is trying to create a military coup. There isn't a hint of a whisper of an iota of evidence for any of this, but that doesn't matter. For Trump supporters, if it supports him it must be true and if it's bad for him it must be false, by definition. It doesn't matter how illogical and unsupported the claim is, the mere accusation is undeniable proof to them. It's highly irrational, but if they weren't highly irrational they wouldn't be Trump supporters.
And what happened to supporting the troops? This is a guy who has spent his entire career as a military officer, with a special expertise in one of the most important geostrategic places on earth.