Having prosperity gospel con artist Paula White as his "spiritual adviser" was apparently not enough for Donald Trump, he's now given her an official White House job in the Office of the Public Liaison. She'll be working on outreach to the Christian right, without whose support Trump couldn't win an election to be dog catcher.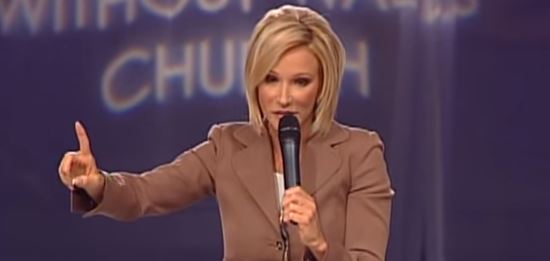 Paula White, a televangelist based in Florida and personal pastor to President Trump whom he has known since 2002, has joined the Trump administration in an official capacity, according to a White House official.

Ms. White will work in the Office of Public Liaison, the official said, which is the division of the White House overseeing outreach to groups and coalitions organizing key parts of the president's base. Her role will be to advise the administration's Faith and Opportunity Initiative, which Mr. Trump established last year by executive order and which aims to give religious groups more of a voice in government programs devoted to issues like defending religious liberty and fighting poverty…

He has taken repeated steps to ensure they turn out for him again — by issuing executive orders, making cabinet appointments and nominating federal judges that pass muster with the religious right. On a range of issues from abortion rights to tax exemptions for churches, Mr. Trump has tried to grant Christian conservatives their policy wish lists whenever legally and politically feasible.
The fact that she's a prosperity gospel preacher is controversial even among the Christian right, however, many of whom believe that idea to be a heresy. Even longtime prosperity gospel preacher and fake faith healer Benny Hinn recently renounced the dogma. So her role in the White House may appeal to many, perhaps most, Christian conservatives, but it may well cause others to doubt him and his sincerity. After all, Trump himself has long been an advocate of what I call the secular prosperity gospel. The whole premise of his fraudulent Trump "University" was that if you give him money, you'll become rich yourself. That's the secular prosperity gospel, it just substitutes Trump for God, as he and so many of his followers do anyway.