Lt. Colonel Alexander Vindman, the Ukraine expert from the National Security Council who listened in to Trump's phone call with Ukrainian President Volodymyr Zelensky and expressed his alarm at the quid pro quo pressure on him to restart the investigation into a company advised by Hunter Biden, testified to the House impeachment inquiry that he was told by a White House lawyer not to speak to anyone about his concerns.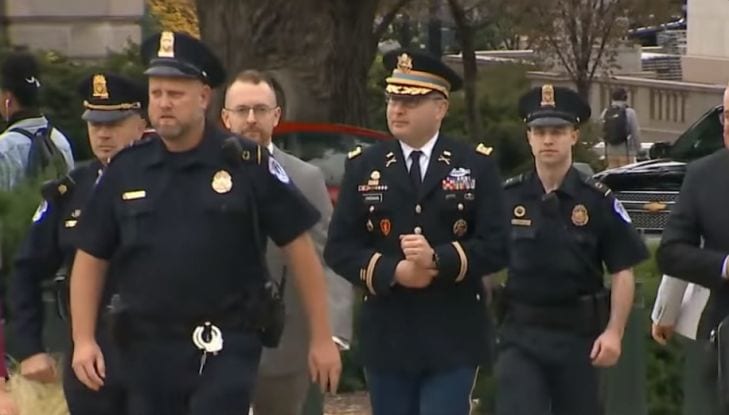 Several days after President Trump's phone call with the leader of Ukraine, a top White House lawyer instructed a senior national security official not to discuss his grave concerns about the leaders' conversation with anyone outside the White House, according to three people familiar with the aide's testimony.

Lt. Col. Alexander Vindman testified that he received this instruction from John Eisenberg, the top legal adviser for the National Security Council, after White House lawyers learned July 29 that a CIA employee had anonymously raised concerns about the Trump phone call, the sources said.

The directive from Eisenberg adds to an expanding list of moves by senior White House officials to contain, if not conceal, possible evidence of Trump's attempt to pressure Ukrainian President Volodymyr Zelensky to provide information that could be damaging to former vice president Joe Biden…

The interaction between Eisenberg and Vindman suggests there was a sense among some in the White House that Trump's call with Zelensky was not, as the president has repeatedly claimed, "perfect." And it threatens to undercut Trump's argument that the expanding impeachment inquiry is politically driven.

"If this is such a perfect call, why is everybody going to these extraordinary lengths?" said a U.S. official familiar with Vindman's testimony this week. "Why are people running immediately to the White House counsel? Why is the White House counsel telling people not to talk about it?"
Exactly right. It's very clear that those around Trump were well aware of the potential damage that call would do to him. That's why they hid the transcript on a special server that few had access to. It's why they ordered everyone to keep quiet about it and not to testify. Despite his public protestations that there was nothing wrong with his "perfect" phone call with Zelensky, Trump is obviously very afraid of the fallout from that call. They tried mightily to bury the evidence and keep everyone quiet, but more and more genuine patriots, more beholden to their country than to Trump, are stepping forward and testifying under oath about what they saw and heard. He's in serious trouble and he knows it.