Just when you think things couldn't get any weirder in the impeachment saga, White House Chief of Staff Mick Mulvaney is seeking to join a lawsuit already filed against Trump. It's a legal technicality, asking the court to rule on whether has can comply with Trump's order not to testify for the impeachment inquiry or if he has to comply with a Congressional subpoena to testify.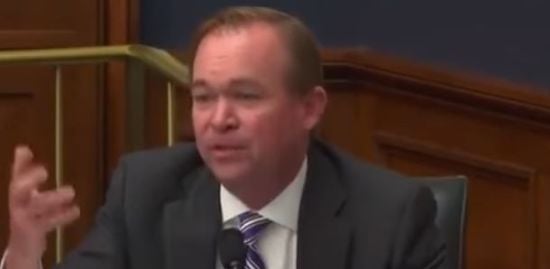 Even in a White House of never-befores, this may be one of the more head-spinning: The president's chief of staff is trying to join a lawsuit against the president.

Mick Mulvaney works only about 50 steps from the Oval Office as he runs the White House staff but rather than simply obey President Trump's order to not cooperate with House impeachment investigators, he sent his lawyers to court late Friday night asking a judge whether he should or not.

To obtain such a ruling, the lawyers asked to join a lawsuit already filed by a former White House official — a lawsuit that names "the Honorable Donald J. Trump" as a defendant along with congressional leaders. The lawyers tried to finesse that by saying in the body of their motion that the defendants they really wanted to sue were the congressional leaders, but their own motion still listed Mr. Trump at the top as a defendant because that is the suit they sought to join.

In effect, Mr. Mulvaney hopes the court will tell him whether to listen to his own boss, who wants him to remain silent, or to comply with a subpoena from the House, which wants his testimony. That put Mr. Mulvaney at odds with some other current White House and administration officials who had simply defied the House, citing the president's order not to cooperate with what he called an illegitimate "witch hunt."
Mulvaney clearly hopes the court will rule that he can ignore the subpoena, but that seems legally dicey at best. I'm sure this was all done with Trump's full knowledge and blessing. Mulvaney has been perhaps most consistent and loyal aides throughout his administration.