Trump's Ambassador to the European Union Gordon Sondland, also a huge contributor to Trumps 2016 campaign, testified publicly before the House impeachment inquiry on Wednesday and seemed to be more candid and forthcoming than in his deposition. That meant throwing Trump, Rudy Giuliani and others under the bus.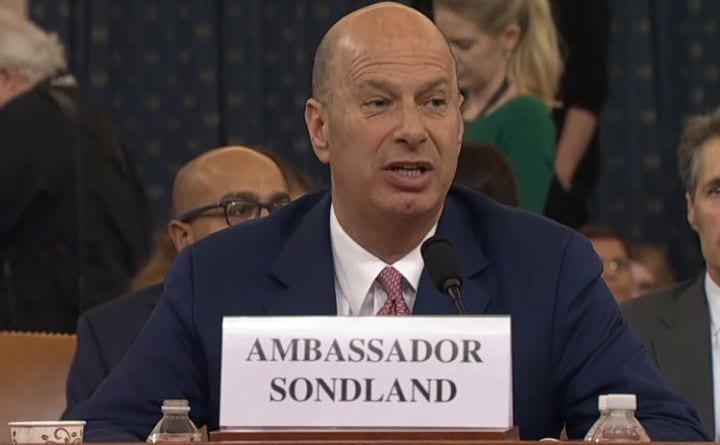 For instance, he made it clear that Trump put Rudy in charge of pressuring Ukraine to reopen the investigation into Joe Biden's son Hunter and that he ordered his diplomats to do what Giuliani told them to do:
"As a presidential appointee, I followed the directions of the president. We worked with (Trump's personal lawyer Rudy) Giuliani because the president directed us to do so…

"Secretary (Rick) Perry, Ambassador (Kurt) Volker and I worked with Mr Rudy Giuliani on Ukraine matters at the express direction of the President of the United States.

"We did not want to work with Mr Giuliani. Simply put, we were playing the hand we were dealt … So we followed the President's orders."
This is basically ordering our State Department officials to support a private foreign policy. Private citizens are forbidden from engaging in foreign policy by law (the Hatch Act). Giuliani had no legal authority to carry out Trump's foreign policy initiatives. Sondland also made clear that he viewed the entire thing as a quid pro quo:
"I know that members of this committee have frequently framed these complicated issues in the form of a simple question: Was there a 'quid pro quo?'

"As I testified previously, with regard to the requested White House call and White House meeting, the answer is yes."

"Mr Giuliani demanded that Ukraine make a public statement announcing the investigations of the 2016 election/DNC server and Burisma.

"Mr Giuliani was expressing the desires of the president of the United States, and we knew that these investigations were important to the president."

"In the absence of any credible explanation for the suspension of aid, I later came to believe that the resumption of security aid would not occur until there was a public statement from Ukraine committing to the investigations of the 2016 election and Burisma, as Mr Giuliani had demanded.
He also implicated Vice President Mike Pence and Secretary of State Mike Pompeo, saying that he had informed both of them of the situation and Trump's tying of security aid to a demand that Zelensky reopen the Burisma investigation. He showed an email exchange with Pompeo asking for his help. Pence denies ever knowing anything about it.
Trump keeps quoting the email from Sondland that says there was no quid pro quo, but Sondland has made clear that Trump had personally dictated that email and told him to send it. It's clear to me that Sondland has decided that it was better to protect himself instead of Trump, so he came clean after many attempts to walk a fine line between those two things. Trump's response to reporters while Sondland was testifying was a pathetic attempt at misdirection, claiming that he barely knows him and has only rarely spoken to him.
Why is that in any way relevant? Regardless of how well he knows him personally, Sondland was squarely in the middle of all the meetings and communications on the subject so he is in a great position to know exactly what happened and speak authoritatively about what went on. It's Trump's standard tactic, though, when responding to anyone who is critical of him. It's like his security blanket that he reaches for instinctively.