American Airlines told a woman she must remove a t-shirt that said "Hail Satan" or lose her seat. They said the crew found the shirt to be offensive and a violation of the company's policy requiring those who fly on the airline to dress "appropriately." The company has since has apologized.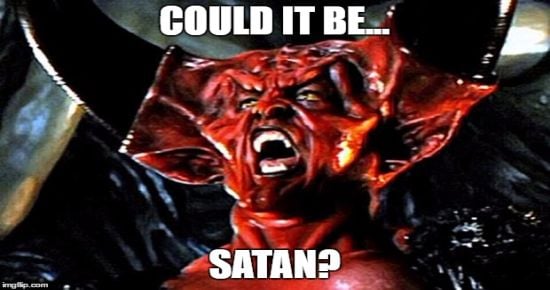 When an American Airlines crew member asked Swati Runi Goyal to get her things and follow him to the front of the plane during her Oct. 30 flight from Florida to Nevada, she thought she was getting upgraded to first class.

Instead, the 49-year-old Key West woman was told she had to either change her shirt or get kicked off the plane — all because the one she was wearing said "Hail Satan."…

"It's an ironic shirt," Goyal told BuzzFeed News. "People usually laugh at it, or they give me a thumbs up because they understand the meaning behind it."…

The crew members did not let up, delaying takeoff and bringing a customer service agent on board to reiterate that she could not fly in the "Hail Satan" shirt…

Fortunately, her husband had two layers on, so he lent one to her. With the text of the shirt covered up, the crew allowed her to remain on the flight. Still, she said the crew avoided eye contact with her for the remainder of the flight, even ignoring her when the drink cart came around.
What an absurd situation. The crew should be reprimanded for their actions.