Trump flashed his fascist side at a campaign rally, and certainly not for the first time, by slamming a security guard for merely escorting a protester out of the arena rather than roughing her up a bit in the process. He said the guard was being "politically correct," a phrase the right uses as a catch-all term when people aren't being intolerant enough.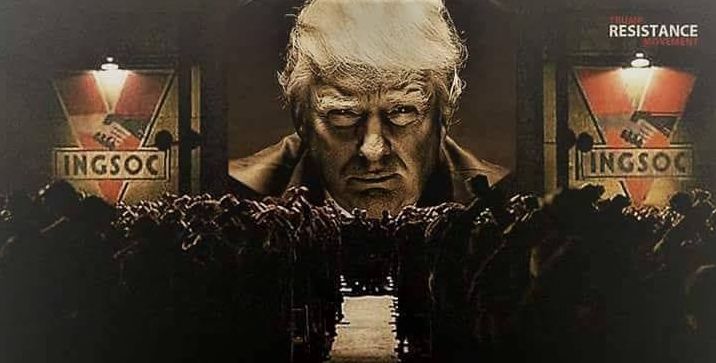 "Law enforcement is so great. That particular guy wanted to be so politically correct. Ahhh! Ahhh! We don't want to be political correct" — Trump laments that arena security wasn't rougher with a female protester pic.twitter.com/GdkEbzZUHQ

— Aaron Rupar (@atrupar) December 11, 2019
Here's video of it:
Must see TV!! A female protester interrupted Trump's Rally. Security was removing her calmly but not fast enough for Trump. Watch him get super pissed that she wasn't removed fast enough and then criticize his own security, ending with we shouldn't be so PC. #TrumpRallyHershey pic.twitter.com/NbZc5b3lAP

— Mystery Solvent (@MysterySolvent) December 11, 2019
This is part of a long pattern:
Trump's call to not be "politically correct" harkens back to other incidents at his events.

During a rally in 2016, he promised to pay the legal fees of anyone who attacks a protester.

"If you see somebody getting ready to throw a tomato, knock the crap out of them, would you?" he said. "Seriously, OK?"

During another event, Trump complained that a protester was receiving high-fives as he left.

"I'd like to punch him in the face, I'll tell you that," he said.

And during a winter event in 2016, Trump told security to take the protesters' coats.

"Throw them out into the cold," he said. "Don't give them their coats. No coats! Confiscate their coats."
Just more of Trump's fascist tendencies.