Tucker Carlson, who is beloved by white supremacists, hosted a political candidate on his show this week who also appears to be a white supremacist. Pete D'Abrosca is running for a seat in Congress and has been widely praised by the most extreme right-wing figures and organizations, including InfoWars and VDARE.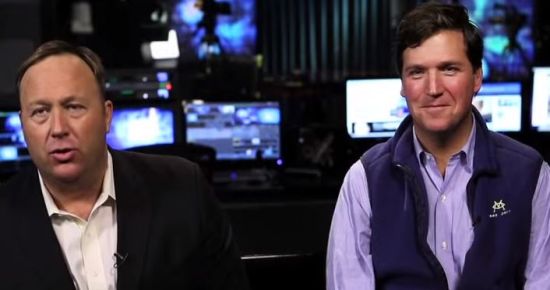 Fox News' Tucker Carlson recently hosted Pete D'Abrosca, a congressional candidate who has ties to white nationalism and has supported the bigoted, anti-immigrant campaign of a group known as "groypers," who are trolling conservative public events with anti-Semitic dog whistles and other hateful rhetoric.

Since D'Abrosca announced his congressional bid and anti-immigrant platform over the summer, he's been lauded by far-right personalities and publications including Ann Coulter and the white nationalist publication VDare and appeared on the conspiracy theory outlet Infowars (which he had also appeared on before). In that most recent appearance, he agreed with the host that Democrats get elected through "illegal voting" and defended the leader of the "groypers," a far-right media figure, Holocaust denier, and pro-segregation activist named Nick Fuentes who hosts "America First" on YouTube…

After his segment on Tucker Carlson Tonight, D'Abrosca earned praise from alt-right figures, including American Identity Movement (formerly Identity Evropa) leader Patrick Casey and "crying Nazi" Christopher Cantwell, Cantwell commiserated with an alt-right troll who praised Carlson as "fully on board with destroying Conservative Inc." He also got attention from Fuentes, who called the segment a "HUGE" deal and said it was "hard to believe it was even real, it was so good." This is not the first time Carlson has earned explicit praise for white nationalists.
Let's be blunt and call a spade a spade: Tucker Carlson is a white supremacist. He tries to cover it with veneer of mainstream conservatism, but it comes shining through far too often to be deniable.