Former White House Press Secretary Sarah Huckabee Sanders unwittingly called the Founding Fathers stupid. She said she can't think of anything dumber than allowing Congress to authorize war, apparently unaware that the Constitution does precisely that. Lucky for her she was on Fox and Friends, so she wasn't called on it.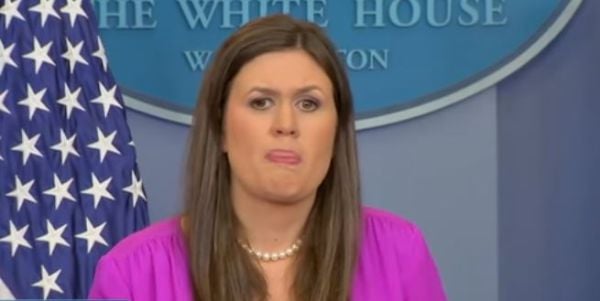 AINSLEY EARHARDT (CO-HOST): Sarah, the president yesterday said the U.S. is ready to embrace peace. He's calling for more economic sanctions on Iran's already struggling economy. He did say that Iran is standing down, so why is the House putting up this resolution to try to limit the president's powers?

SARAH SANDERS (FOX NEWS CONTRIBUTOR): You know, I can't think of anything dumber than allowing Congress to take over our foreign policy. They can't seem to manage to get much of anything done. I think the last thing we want to do is push powers into Congress' hands and take them away from the president. Any Democrat that doesn't understand that America is safer now that one of the most dangerous terrorists in the world is rotting in hell is completely naive and completely misses what we need to have in a foreign policy and the last thing I want to do is see them take power away from President Trump and put it into their own hands. I don't think anything could be worse for America than that.
Article 1, Section 8 of the Constitution says that Congress shall have the power "To declare War, grant Letters of Marque and Reprisal, and make Rules concerning Captures on Land and Water." Sanders can't think of anything dumber than that. Funny, I can. This kind of ignorance really should be painful.