An ICE detention center captain employed by a private contractor that is one of the largest private prison companies in the country posted on a white supremacist website and sought to put together a neo-Nazi group in Indiana. He has now been suspended pending a full investigation, but he was in charge of a mostly Latino group of detainees at two facilities for more than three years.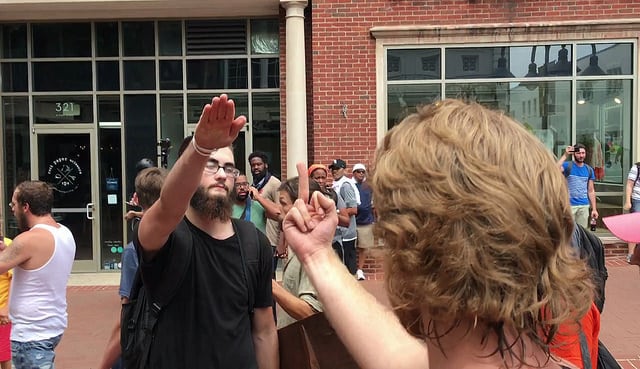 A senior employee at a for-profit immigrant detention center in Nevada was active on the neo-Nazi site Iron March and aspired to establish a white nationalist chapter in his area.

Travis Frey, 31, is currently employed as a captain at the Nevada Southern Detention Center, which is run by private prison behemoth CoreCivic and contracted with ICE.

Frey joined Iron March in 2013, and posted at least a dozen times between 2016 and 2017 while he was working as head of security at a CoreCivic jail in Indianapolis, which was also authorized to house detainees on behalf of ICE…

On Iron March, Frey used the screen name "In Hoc Signo Vinces," a Latin phrase that's used by military outfits around the world, and by universities, and was the title of the American Nazi Party's manifesto. VICE News was able to identify Frey, who served in the Marines between 2006 and 2008, through some of the personal information he provided on Iron March, including his personal email address, phone number, birthday, and place of residence at the time he was writing on Iron March (which was Carmel, Indiana)…

Frey's participation on Iron March and self-identification as a "fascist" in his profile raises questions about his tenure while holding a position of authority over the lives of vulnerable populations, including migrants, who are often people of color.
ICE's response when this came to light was a casual "Hey, he wasn't our employee," as if they have no responsibility to make sure those who work in their facilities, especially officers with authority, are at least not racist fascists who have non-white people. Just appalling.
Frey wanted to join the Traditionalist Workers Party while he lived in Indiana, the group founded by neo-Nazi Matthew Heimbach that ended in a blaze of hilarious glory after he had an affair with his father-in-law's wife.