After a day's delay, the Iowa caucus results finally started coming in and the results were rather surprising. Pete Buttigieg and Bernie Sanders both had very strong results, while Joe Biden, who was polling so strongly not long ago, finished a distant 4th behind those first two and Elizabeth Warren. But let's also not start writing his obituary just yet.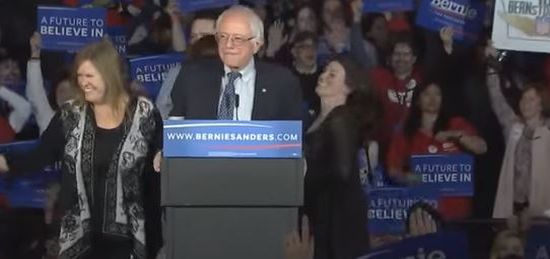 With more than 70% of the results in, Buttigieg has 26.8%. Sanders has 25.2%. No one else broke 20%. Warren has 18.4%. Biden was far behind at only 15.4%. And Amy Klobuchar was at 12.6%. All five of them will go on to New Hampshire for the first real primary election. Michael Bloomberg and Tom Steyer will also go on, mostly because they have vast amounts of money to spend on advertising. Bloomberg in particular has ordered his campaign staff to double his ad spending, after already spending some $200 million so far. Since his net worth is estimated at around $50 billion, that's really just chump change to him. Steyer is also a billionaire, but he doesn't have anywhere near what Bloomberg has.
Sanders, from neighboring Vermont, has historically done very well in New Hampshire. In 2016, he walloped Hillary Clinton with over 60% of the votes to her 38%. In 1992, Bill Clinton famously won in New Hampshire and his longshot candidacy suddenly had life. In 2008, Hillary Clinton won with 39% of the vote, but Barack Obama was a strong second with just over 36% and both then moved on to South Carolina. This year, the South Carolina primary takes place on Feb. 29th, then Super Tuesday on March 3rd, when 14 states will hold primaries.
It is folly to try to make any predictions at this point. Biden looks very strong in South Carolina, so we certainly can't write him off at this point. But Sanders and Buttigieg are off to very strong starts, and if they can continue with similar results they could really shake things up. Imagine if Sanders and Biden end up being the last two candidates standing. The contrast is obvious and we would find out where Democrats really stand.
I personally like what Sanders stands for, but I am concerned about him becoming the nominee. The attack ads write themselves. Trump would tie the word "socialist" around his neck like an albatross. And given the ignorance of most Americans, he'll be the second coming of Josef Stalin in their eyes. I'm genuinely afraid that he makes Trump's job too easy and he ends up wining reelection that way. Ihope I'd be wrong.