Hateful racist jerk Rush Limbaugh announced the other day that he an advanced case of lung cancer and Trump decided to give him the nation's highest civilian honor, the Presidential Medal of Freedom. He did so in the middle of his State of the Union address to Congress and had Melania put the medal around his neck in front of Congress.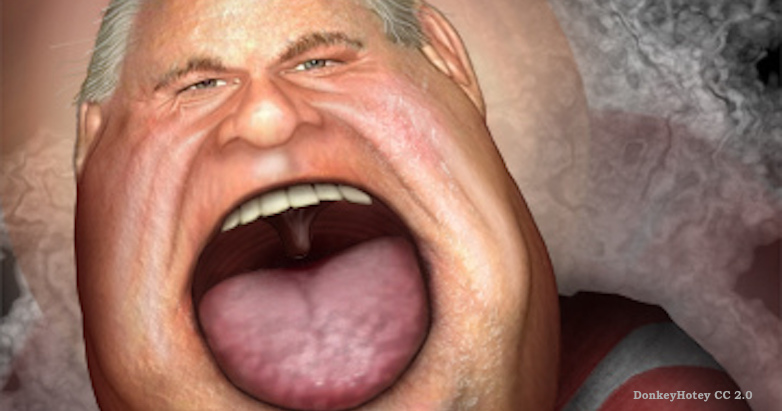 Media Matters has a long, detailed rundown of Limbaugh's long history of peddling hate and racism, degrading our political discourse like no other man has ever done so thoroughly.
Limbaugh's history of racist invective includes him saying, "The NFL all too often looks like a game between the Bloods and the Crips without any weapons" and dismissing the suffering of Native Americans by claiming, "'Holocaust?' Ninety million Indians? Only four million left? They all have casinos — what's to complain about?"

He has also frequently mocked human suffering, ranging from victims of natural disasters to those living in extreme poverty…

Limbaugh also referred to then-presidential candidate Barack Obama as a "Hafrican American," and played a mocking song called "Barack the Magic Negro." Barely nine months in the Obama presidency, Limbaugh declared, "In Obama's America, the white kids now get beat up with the Black kids cheering." In 2011, he accused then-first lady Michelle Obama of "uppity-ism," and he also promoted a conspiracy theory that "race riots are part of the plan that this regime has."…

Limbaugh's attacks against immigrant communities are prolific. In 2019 alone, he said that "the Democrat party has imported the third world into this country and they have not assimilated," compared asylum-seekers coming to the U.S. border to the invasion of Normandy, and quipped that "maybe toilet water is a step up for" some migrants.

Oh, yeah, he was also a birther.
One could go on and on with that list. It's easy to say that Trump gave him the Medal of Freedom despite his history of hateful bigotry, but in fact he gave it to him precisely because of that.