Several military investigators representing the Navy, the Air Force and the Army, testified to a House committee that being a member of a neo-Nazi organization doesn't necessarily get you kicked out of the military. They make a distinction between being a member and being an "active paticipant" in neo-Nazi activities. Talk about a distinction without a difference.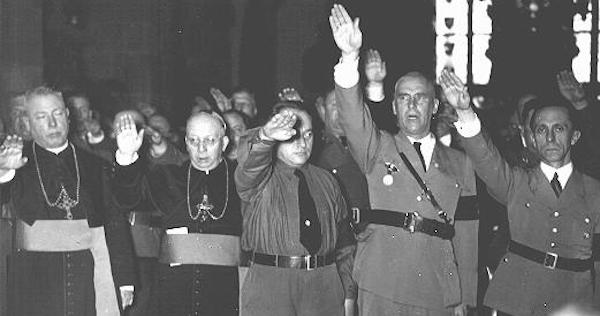 Membership in a white supremacist or neo-Nazi group won't necessarily get a U.S. service member tossed out of the military, defense officials told a House subcommittee Tuesday.

The officials, including representatives of Naval Criminal Investigative Service and the Army's Criminal Investigation Division, appeared to make a distinction between membership in an extremist organization and "active participation" in deciding on recruitment and retention…

"I am flummoxed by what I've heard today," Rep. Jackie Speier, D-California, chair of the Subcommittee, said after questioning Robert Grabosky, deputy director of Law Enforcement at the Air Force Office of Special Investigations.

Grabosky said that membership in a white nationalist group "is not prohibited," but "active participation" in the group could lead to an administrative discharge, at a commander's discretion.

"I find that astonishing," Speier said. "If you're a member, that's an activity. I think we need to take a look at that."

Rep. Trent Kelly, R-Mississippi, an Iraq veteran, brigadier general in the Army National Guard and ranking member of the subcommittee, said the bottom line for white nationalists in the military was, "what can we do better to keep 'em out and what can we do to get 'em out?"
No kidding. But you certainly can't expect Trump to change it. This one of the key parts of his coalition.