Trump "spiritual adviser" Paula White, a prosperity gospel preacher, told her followers that they should do anything they need to do, including not paying their electric bill, in order to send her as much money as possible. That's the only way that God will bless them, including curing them of cancer.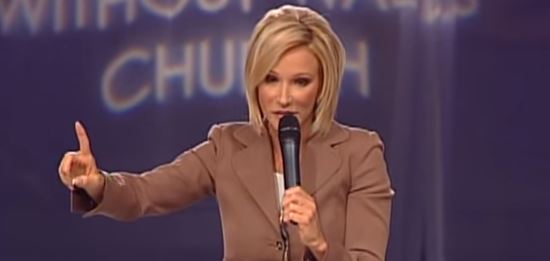 At the Supernatural Ministry School, White deftly offered the audience the secret of her success. "How did I get to the White House from the trailer?" she asked. The answer, of course, was by giving money to God by way of the church—and she's not talking about tossing the weekly pin money in the offering plate. Securing Paula White, White House-caliber blessings would require students of the supernatural to give a "First Fruits" offering, one that is significant—the first week's pay, say, or even the first month's pay—to signify putting God first in everything. White claimed during the sermon that God once told her that in 2009, a particularly bad year, she needed to give her entire annual salary to God—$8 million.

She broke it all down for her congregants, making it simple: If they prioritize their paychecks for more earthly needs, like keeping the lights on, they were treating Florida Power and Light (FPL) like God himself. "Instead of writing [that check] to the house of God as I'm instructed to, then what I'm saying spiritually is, 'FPL, I have now established a spiritual law that put you first. So, FPL, save my family, FPL, deliver my drug addicted son. FPL, kill this cancer that doctors say is in my body.'"
Prosperity gospel is a giant scam and any serious theologian thinks it's a heresy. As I've said many times, Trump has partly made a living as a secular prosperity gospel preacher. That's what Trump "University" was all about. He's sold himself as the paragon of wealth and taste and sold products on the basis of convincing people that if they buy his products, some of that will rub off on them.