Trump is not the only one who tells easily checkable lies while campaigning. Democratic candidate and former Vice President Joe Biden has been telling a whopper at rallies about how he supposedly got arrested while trying to see Nelson Mandela in prison on Robben Island in South Africa. The Washington Post debunks the lie.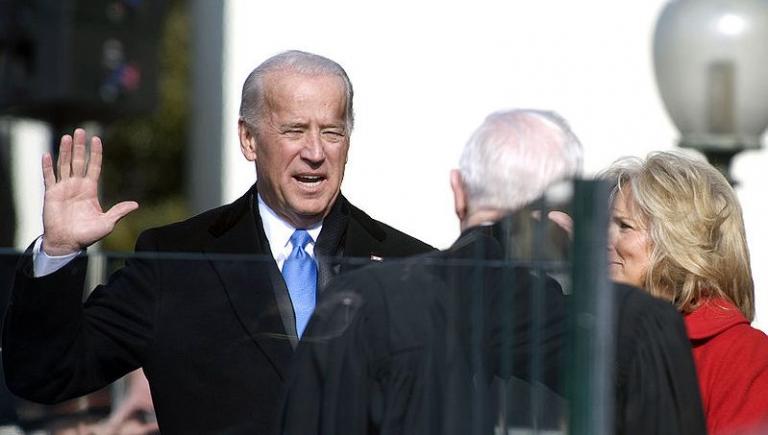 "This day, 30 years ago, Nelson Mandela walked out of prison and entered into discussions about apartheid. I had the great honor of meeting him. I had the great honor of being arrested with our U.N. ambassador on the streets of Soweto trying to get to see him on Robbens Island."

— Former vice president Joe Biden, in remarks in Columbia, S.C., on Feb. 11
That's one of three times he's told that story in the last couple weeks. The facts:
As the Times noted, Biden's memoir makes no mention of any such arrest. As far as we can tell, Biden never mentioned this arrest before; neither can we locate any news accounts of him being arrested.

Biden's first statement above is rather jumbled. Soweto, a township near Johannesburg, is nearly 900 miles from Robben — not Robbens — Island, which is off the coast of Cape Town. He appears to be referring to a trip in 1977, but the U.N. ambassador from 1977 to 1979, Andrew Young, told The Fact Checker that he was never arrested in South Africa.

"There is no chance I ever was arrested in South Africa, and I don't think Joe was, either," said Young, who as executive director of the Southern Christian Leadership Conference worked closely with Martin Luther King Jr. on civil rights demonstrations. "I was arrested twice, in Savannah and Atlanta."…

Young recalled also traveling with Biden on a trip led by Rep. Charles Diggs (D-Mich.). Biden appeared to refer to that trip when, as vice president, he issued a statement in 2013 on Mandela's death — a statement that did not include mention of any arrest: "When I tried to enter Soweto township with Congressmen Andrew Young of Atlanta and Charles Diggs of Detroit, I remember their tears of anger and sadness."
Biden is lying, plain and simple. He's getting desperate to make sure he wins the primary in South Carolina after losing badly in Iowa, New Hampshire and Nevada. If he doesn't win South Carolina, his campaign is probably over. So he's inventing stories that appeal to black voters, who will largely control the outcome of the primary in that state.