You would think that Larry Klayman, the dumbest lawyer in America not named Mat Staver, and Roger Stone, both being serious Trump cheerleaders and sycophants would get along. You'd be wrong. Klayman is suing Stone and they did a deposition just before Stone was sentenced in his criminal case. Stone relentlessly attacked Klayman, calling him a child molester and saying he'd never won a case, and ended up storming out in anger.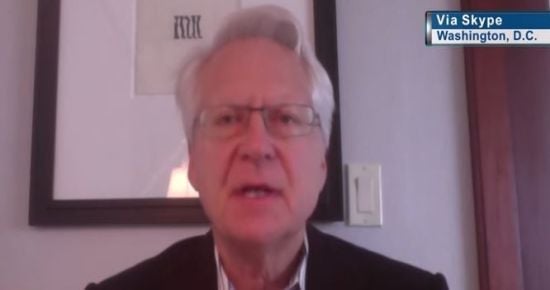 In five-and-a-half hours of video recorded over two days, Stone's hands shake, he bares his teeth, his lips twitch and he repeatedly loses his temper in the face of goading from conservative lawyer Larry Klayman, who has several libel suits pending against Stone and his associates.

"If you want to keep insulting me, this will be over and you can run back to the judge like a little bitch," Stone said during one particularly heated exchange.

"Did you just call me a bitch?" Klayman asked.

"You're acting like one. … You don't have anything, my friend. You got nothing," Stone replied, slapping his hand on the table for emphasis…

In all, Klayman referenced six different lawsuits at the start of the deposition, including a suit claiming that Stone falsely said Klayman had "never won a courtroom victory in his life," that "he could be the single worst lawyer in America," and that his IQ is below 70.

Clearly, both men aren't fond of the other.

"Let's go," Stone said at one point, seeming to gesture at Klayman to come at him. "I don't have to be badgered by this asshole."

Stone made it only about an hour into the session before standing up, throwing down the microphone in anger, and telling Klayman: "F— you!"…

Stone, in turn, regularly invoked Klayman's long history of run-ins with judges and bar discipline authorities.

In 1997, a federal judge in Manhattan banished Klayman after finding the attorney conducted "abusive and obnoxious" questioning, gratuitously invoked the judge's Chinese origins and pursued "preposterous" arguments.

In 2011, Klayman was formally reprimanded in Florida for taking a woman's retainer fee and failing to return some of the payment after she demanded it back. According to a consent judgment filed with the Florida Supreme Court, Klayman agreed to repay a small portion of the retainer, said financial distress precluded him from making the payments on time and eventually provided the agreed refund…

At one point during the Fort Lauderdale deposition, Stone invoked an even more disturbing episode in Klayman's past: a magistrate handling a custody dispute a decade ago found that Klayman engaged in "grossly inappropriate" touching of his own children. Klayman denied any sexual contact with the children and submitted a lie detector test he said backed up his claim.
Wow. You can watch the video at the link above and it's fun. I don't know who to root for in this one. I'm just going to enjoy the show.