Con artist Jim Bakker is still running one grift after another and his latest one has him in hot water with the New York Attorney General's office, which has ordered him to stop promoting his "Silver Solution" as a cure for the coronavirus. He should have just stuck with prayer, but you can't really sell that. The cease and decease letter from the AG: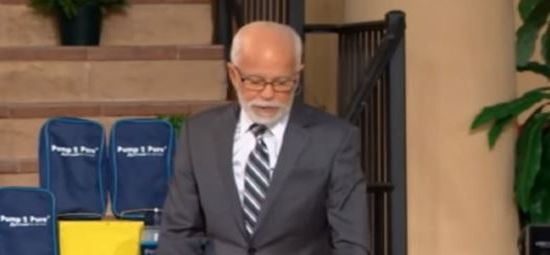 Dear Mr. Bakker:

The New York State Office of the Attorney General ("OAG") is extremely concerned by certain statements made during the February 12, 2020 screening of The Jim Bakker Show. During this screening, you asked your guest Sherrill Sellman if the Silver Solution sold on the show's website would be effective against the coronavirus, to which Ms. Sherman responded: "Let's say it hasn't been tested on this strain of the coronavirus, but it's been tested on other strains of the coronavirus and has been able to eliminate it within 12 hours." New York residents can view your show on the internet and local television, and your show's website sells Silver Solution products to New York residents.

The 2019 novel coronavirus (2019-nCOV) poses serious consequences to public health, and consumers are concerned as to how they can best protect themselves and their families. Your show's segment may mislead consumers as to the effectiveness of the Silver Solution product in protecting against the current outbreak. The World Health Organization ("WHO") has noted that there is no specific medicine to prevent or treat this disease. Therefore, any representation on the Jim Bakker Show that its Silver Solution products are effective at combatting an/or treating the 2019 novel coronavirus violates New York law.

Your show is hereby advised to immediately cease and desist from making misleading claims regarding the Silver Solution's effectiveness as they violate New York's consumer protection statutes, Executive Law § 63(12) and General Business Law Article 22-A §§ 349 and 350, which prohibit fraudulent and deceptive business practices and false advertising.

Additionally, you are advised to immediately affix the disclaimer – "These statements have not been evaluated by the Food and Drug Administration. This product is not intended to diagnose, treat, cure, or prevent any disease." – to all Silver Solution products listed on the show's online store.

Within the next ten business days, please contact the undersigned to confirm that the Jim Bakker Show has so complied. Your failure to comply with this directive may result in further action by this office. Please be advised that the Office of the Attorney General is authorized pursuant to Executive Law § 63(12) and General Business Law Article 22-A to bring suit to enjoin any deceptive acts and practices, and to seek restitution, damages, and penalties of up to $5,000 per violation (§ 35O-d).

Lisa Landau
Chief, Health Care Bureau
I just wonder is this will be at all effective. If you're deluded enough to believe what Jim Bakker has to say, are you going to suddenly discount what he says because of a disclaimer? He'll just do it with a wink and a nod and his followers will pony up the cash like they always do.