A well-known white supremacist and anti-MUslim bigot unfurled a Nazi flag at a Bernie Sanders rally this week, prompting outrage and alarm given his past calls for violence against Jews, Muslims and others. Robert Sterkeson was quickly recognized by someone from CAIR and his identity was confirmed by anti-fascist activists.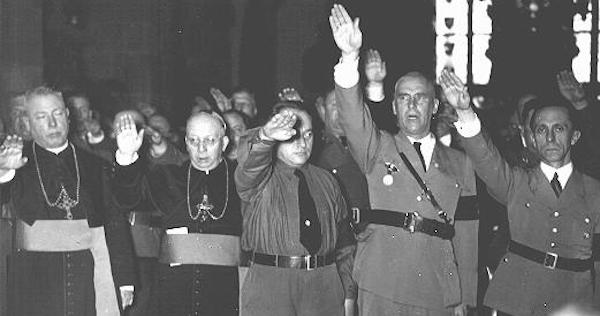 Sterkeson was reportedly first identified by​ Imraan Siddiqi​, executive director of the Council on Islamic Relations-Arizona, and his identity was confirmed by antifascist researchers online, who located records of similar anti-Jewish stunts that Sterkeson had performed in the past​, ​as well as an online profile where Sterkeson took credit for Thursday's display. The Anti-Defamation League reported that Sterkeson "frequently targets Jews" and Muslim communities for his self-described "stunt" activism, and that Sterkeson has spoken positively of Robert Bowers, the man charged with murdering 11 worshipers at the Tree of Life Synagogue in Pittsburgh in 2018.

According to Media Matters, Sterkeson has produced and uploaded ​droves of hateful content to his YouTube account—called "Bomb Islam"—despite YouTube's promises to counter hate speech on its platform. Nick Martin of The Informant reported that Sterkeson had uploaded a video encouraging viewers to "join a right-wing death squad and kill a bunch of politicians, journalists and judges." At the time of publication, Sterkeson's YouTube channel is still active. Google did not immediately respond to Right Wing Watch's request for comment.
What makes it even more appalling is that Sanders has relatives who died in the Nazi concentration camps during Hitler's reign.