Evangelist con man Rodney Howard-Browne, a major Trump friend and supporter, has refused to follow government mandates in Florida to shut down all large gatherings, including church services due to the coronavirus. The county sheriff has issued an arrest warrant for it. We'll see whether they follow through on it and how he reacts.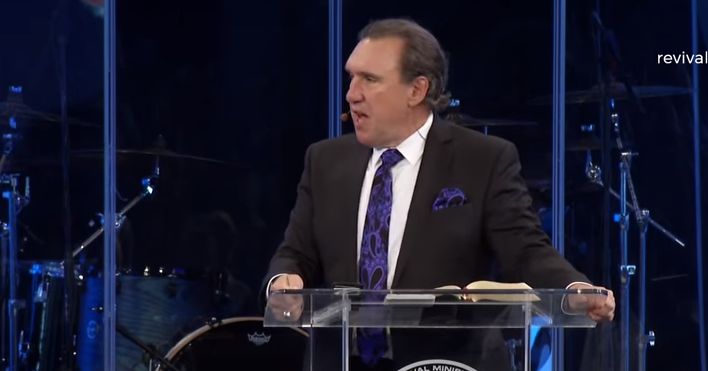 For weeks, Howard-Browne has insisted on holding Sunday services on the grounds that he and his congregation are "not pansies" while insisting that his church is the most sterile building in America because it is supposedly equipped with machines that can instantaneously kill any virus.

Howard-Browne has used these services to promote baseless conspiracy theories about the coronavirus outbreak and repeatedly vowed that he would never cancel services, regardless of what the government ordered. He held services again yesterday, after which he received a visit from the local sheriff's office about his wanton flouting of the safer-at-home order.

On Monday, Hillsborough County Sheriff Chad Chronister held a press conference announcing that because of Howard-Browne's refusal to cancel services despite repeated requests and warnings, an arrest warrant had been issued for him for unlawful assembly and violations of public health emergency rules.
Will he now comply? I doubt it. He'd rather be a martyr for religious freedom and against the government, even though the order came from a fellow Trump supporter. The question then is whether they will make good on the warrant and arrest him. If they do, he gets what he wants; if they don't, it makes their warrants meaningless.