Trump turned over his daily coronavirus task force press conference on Monday to Mike Lindell, the creator of the My Pillow that you see commercials for on TV constantly, so he could preach to Americans and tell them that in these troubled times, they need to read the Bible and pray and tell them that God put Trump in office.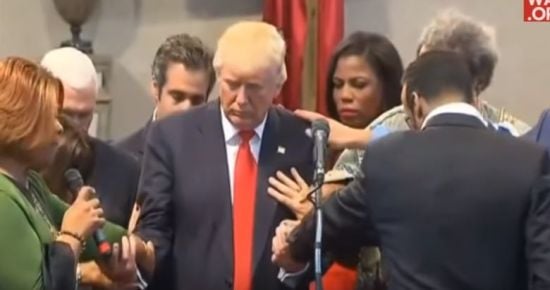 "God gave us grace on Nov. 8, 2016, to change the course we were on," Lindell said, referring to the day Trump was elected. "God had been taken out of our schools and lives. A nation had turned its back on God."

"And I encourage you to use this time at home to get back in the 'Word,' read our Bibles and spend time with our families," he added, touting "our great president" and "all the great people in this country praying daily" as key to getting through the pandemic.
President Donald Trump used Monday's White House daily briefing on coronavirus to again parade out private company executives — including MyPillow CEO Mike Lindell, who used the platform to praise Trump and tell Americans amid a global pandemic to "read our Bibles." …
Trump didn't think there was any problem with that at all, of course.