Rep. Steve King of Iowa has lost the primary in the Republican race, a very rare primary loss for a sitting Congressman. Iowa Republican Randy Feenstr, a state legislator, beat King easily. King had been stripped of all his committee assignments because he was too extreme even for them.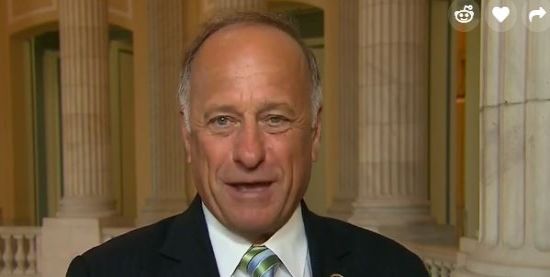 U.S. Congressman Steve King, a nine-term Republican from Iowa, has just lost his primary to a GOP challenger. It's a huge fall from grace: In 2014 The Des Moines Register labeled the former earth-moving company founder a "presidential kingmaker."

But his racist, white nationalist, white supremacist, anti-immigrant, anti-Semitic, homophobic, transphobic, biphobic remarks and disturbing ties to far right radical European politicians – including one he endorsed who has ties to a neo-Nazi, finally caught up with him…

Feenstr handily won because he offered voters a far right Christian conservative platform without the messy extremism, and because King was effectively useless after being stripped of his committee assignments after being condemned for making white supremacist remarks.
Ding dong, the white supremacist is dead.