The Military Religious Freedom Foundation is threatening to sue the city of Walla Walla, Washington over a police officer on staff with a swastika tattoo if they don't force him to remove it or fire him.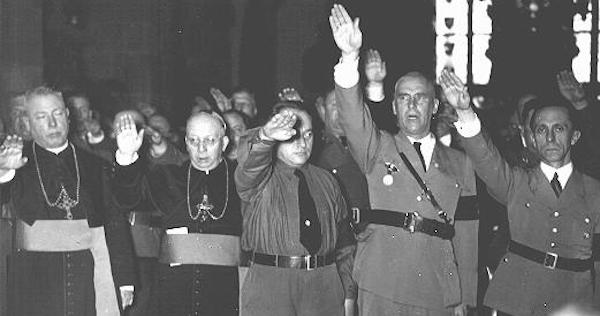 A national civil rights organization says it will file a suit against the city of Walla Walla if a local police officer's double lightning bolt "SS" tattoo isn't removed or altered or the officer isn't removed from the Walla Walla Police Department.

In an emailed letter sent to Walla Walla Police Chief Scott Bieber and Walla Walla Mayor Tom Scribner, the Military Religious Freedom Foundation called for Bieber to "do the right thing."…

Weinstein said his civil rights advocacy group had been in contact with board members of the Beth Israel Congregation in Walla Walla regarding the tattoo worn by police officer Nat Small.

In a letter to the Union-Bulletin published Wednesday, Beth Israel representatives said the synagogue's board is concerned about the police department's defensive and reactionary response to community criticism about Small's tattoo and the lack of police department transparency on the issue…

The police department and Small have said the double lightning bolt "SS" tattoo is related to the officer's scout sniper service in the U.S. Marine Corps, despite its historic symbolism for Nazi white supremacy.

The image has been denounced by the Marine Corps, in part due to efforts from Weinstein's organization.

In 2012 a group of Marines posed with their sniper rifles in front of a blue flag with white Nazi "SS" runes.

The picture had been taken in 2010 in Afghanistan and the photo's description says the "SS" flag had been "adopted and used by the Marines in reference to scout sniper."
As if that somehow makes it all okay.