Trump buddy Roger Stone may not have totally bought into the Q Anon conspiracy, but he sure hope's it's true and that and that Trump will soon begin arresting liberals for being pedophiles.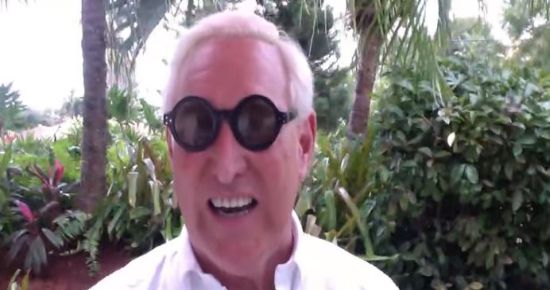 Roger Stone, a longtime associate of President Donald Trump and an early adviser to Trump's 2016 campaign for president of the United States, appeared on a pro-QAnon YouTube channel last weekend and told the audience that he hoped the conspiracy theory was true….

"I don't want to put you on the spot, but I just wanted to ask your opinion on how this [QAnon] movement underneath Trump is helping him get elected and waking people up a lot of people," Penderson asked Stone.

"Well, obviously I get this question quite a bit as I was traveling and speaking as much as I can. I do a lot of interviews and I meet with a lot of patriot groups and I always get the question, 'Mr. Stone, is Q real?' And my answer is always the same," Stone said. "And I always say, 'I don't know, but let me tell you this: I certainly hope Q is real and there a number of indications that the information that is being disseminated has been of enormous value in this fight for freedom.'"

Stone said he has been "completely consumed" by his own legal woes, but that he had met many "great patriots" through the Q movement. "I honestly believe that if we hang together, we can save this country," Stone said.