Trump has unsurprisingly commuted the sentence of his buddy Roger Stone, convicted of lying to police and obstructing justice, on the verge of Stone being ordered to prison. I guess no one in prison will get to see his Richard Nixon tattoo.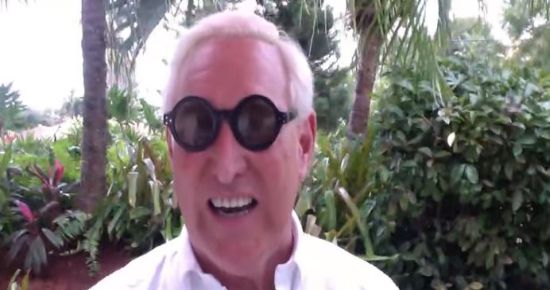 President Trump commuted the sentence of his longtime friend Roger J. Stone Jr. on seven felony crimes on Friday, using the power of his office to spare a former campaign adviser days before Mr. Stone was to report to a federal prison to serve a 40-month term.

In a lengthy written statement punctuated by the sort of inflammatory language and angry grievances characteristic of the president's Twitter feed, the White House denounced the "overzealous prosecutors" who convicted Mr. Stone on "process-based charges" stemming from the "witch hunts" and "Russia hoax" investigation.

The statement did not assert that Mr. Stone was innocent of the false statements and obstruction counts, only that he should not have been pursued because prosecutors ultimately filed no charges of an underlying conspiracy between Mr. Trump's campaign and Russia. "Roger Stone has already suffered greatly," it said. "He was treated very unfairly, as were many others in this case. Roger Stone is now a free man!"
And the corruption continues unabated. It should be clear by now that Trump simply doesn't care about political norms. He thinks he's untouchable. And so far, he's right. It's remarkable to think about how far we have fallen and we now consider normal. What other president would do this? Or would brag about cognitive tests? Or fire one IG after another? Or lie with such impugnity? We live in a very different country than we though we did and the change is not for the better.